Cambridgeshire woman jailed for neglect in punched toddler case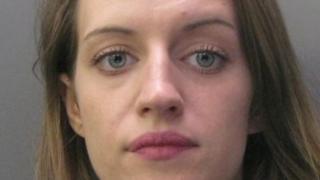 A woman who "did nothing to protect" a toddler from abuse has been jailed after admitting neglect.
Monika Rudaityte, 27, of March, Cambridgeshire, was in the house when the 18-month-old girl was punched in the face in September.
Her partner Deividas Subacius, 29, was jailed for 17 years in February for actual bodily harm, grievous bodily harm and blackmail.
Rudaityte admitted neglect and was jailed for four years and nine months.
Police say the child "has no lasting injuries and is now flourishing".
Subacius, of Badgeney Road in March, had sent a video to the girl's grandparents showing the assault and demanding £130 or the abuse would continue, police said.
The toddler sustained significant swelling and bruising to her right eye.
The court heard an examination by doctors also revealed she had eight healed fractures including to her femur, wrist, collar bone and ribs.
Subacius was arrested after the grandparents raised the alarm and the blackmail demands were found on his phone.
Peterborough Crown Court heard how Rudaityte had been in the house at the time and "did nothing to prevent" the attack.
Det Con Clemie Yaxley, of Cambridgeshire Police, described it as "the worst case of physical abuse in a child that I have had to deal with in my entire career".
"The child in this case suffered horrific injuries but Rudaityte did nothing to prevent it," she said.
"Thankfully she has no lasting injuries and is now flourishing."