Dutch-style roundabout to be built in Cambridge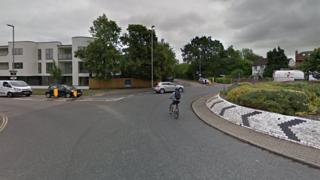 A £800,000 Dutch-style roundabout, with priority given to pedestrians and cyclists, is to be built in Cambridge.
It will be constructed on the junction of Fendon Road and Queen Edith's Way in the city.
Cambridgeshire County Council chose to build the roundabout - one of the UK's first - having been awarded £550,000 by the Department for Transport.
A developer will pay the remaining £250,000. The new roundabout aims to improve safety in the area.
It will include zebra crossings for pedestrians and a dedicated red cycle path around the roundabout for cyclists.
Works on site are due to start in early 2019.
Ian Bates, Cambridgeshire County Council's chair of the economy and environment committee, said it would "improve the experience for everyone using the roundabout".
Proposals will also be coming forward later this year for cycle safety improvements along Queen Edith's Way itself.
A double Dutch roundabout - over two existing junctions - is due to open in Crystal Palace, south London, this year.