Oliver Cromwell's 'rare' funeral banner sells for £16k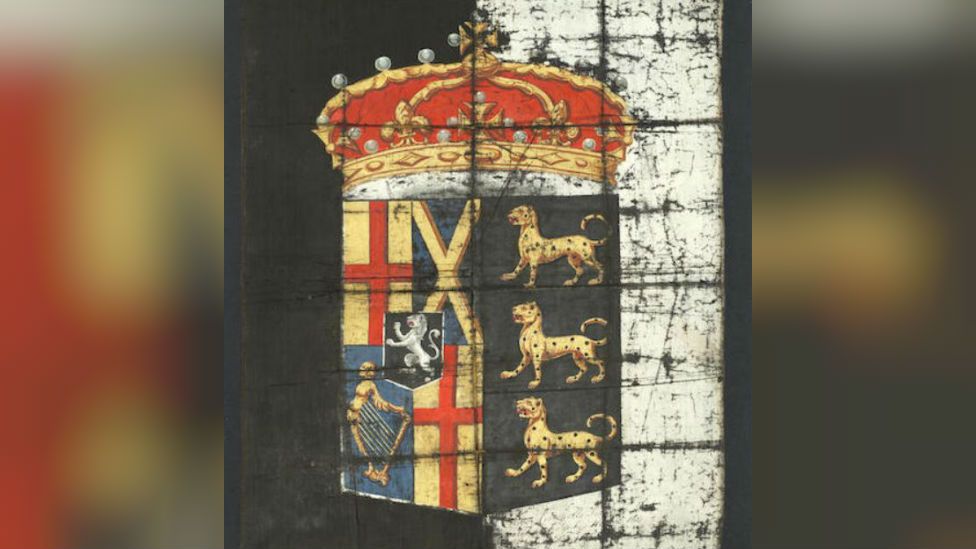 A gilded silk banner that formed part of the regalia used at the funeral of Oliver Cromwell in November 1658, has sold at auction in London for £16,250.
The banner - known as an escutcheon - is painted with his arms as Lord Protector of England, Scotland and Ireland and topped by the royal crown.
A 18th Century inscription suggests it was used during his funeral in 1658.
Auctioneers Bonhams would not reveal the name of its new owner but said it would stay in the UK.
Bonhams' senior book specialist Simon Roberts, said: "The escutcheon is a very rare and remarkably well-preserved survivor of a significant event in British history."
Cromwell's lying-in-state and funeral on 23 November 1658 was a grand affair which closely followed the precedent set by past royal funerals.
It included 2,006 escutcheons - only four of which have survived.
This banner, which was expected to sell for between £8,000 and £12,000, was the only one in private hands.
The others are kept at Westminster School, the Museum of London and the Cromwell Museum in Huntingdon in Cambridgeshire.
Cromwell resisted attempts by Parliament to crown him king - although the power he wielded as Lord Protector made him that in all but name and he was routinely referred to as "Your Highness".
He probably died from a malarial infection acquired during his campaign in Ireland in 1649.
Cromwell was born in Huntingdon, Cambridgeshire, on 25 April 1599.
He served as an MP for Huntingdon in the Parliament of 1628-9 and for Cambridge in the Long Parliament in 1640.
He helped the Parliamentarian forces defeat Charles I during the Civil War and was one of the signatories on the king's death warrant.
For this reason he was posthumously executed by Charles II following his return to the throne in 1660.
Related Internet Links
The BBC is not responsible for the content of external sites.