Royal Papworth Hospital move delayed over 'combustible' insulation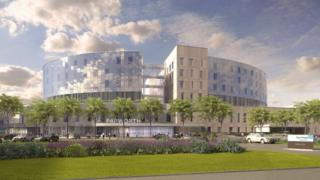 A leading heart and lung hospital has delayed its move to a new building over concerns that insulation material is flammable.
Royal Papworth Hospital planned to move to the Cambridge Biomedical Campus and open in September.
However, it has announced contractors Skanska used insulation materials that did not meet its specifications and the move might take "a number of months".
Skanska told the BBC there were no fire risks.
A hospital trust spokesman said there was a concern the insulation "was combustible" but a Skanska spokesman told the BBC the work had been signed off by building control officials.
Skanska was due to hand over the building to the trust in July, allowing a two-month training programme for staff before the new site's doors opened to patients.
The hospital said in recent weeks an "independent tester" had been checking the building "to ensure it meets the specifications set out in the original contract".
"During this period, Skanska informed the trust that they have used insulation materials that do not meet our original requirements in the lower part of the hospital building," the trust said in a statement.
The trust has a "duty to uphold the highest safety standards for our patients and staff", the statement continued.
"As a result, Royal Papworth Hospital's board of directors has taken the decision not to accept handover of the building until Skanska has completed remedial work in accordance with the trust's original requirements."
The trust said Skanska had not yet indicated how long the work might take but "early indications suggest it will take a number of months".
The trust's chief executive Stephen Posey described the situation as "extremely frustrating" but said it remained "committed to the vision of the new hospital".
The Skanska spokesman said: "We remain in discussions with the trust on this matter and we are working towards a resolution in order for the hospital to open as soon as possible.
"We share the trust's aim to uphold the highest standards for patients and staff."