Rescued cat was trapped in three-inch house wall gap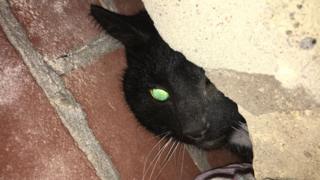 Fire crews had to cut through a wall to rescue a cat that was wedged in a three-inch gap between two homes.
Cotton, from Willingham, Cambridgeshire was "well and truly trapped", Cambridgeshire Fire and Rescue Service said.
Its plaintive mews alerted homeowners, who called firefighters and the RSPCA, but the cat could not be coaxed or tugged from the tight gap.
Rescuers had to cut a hole through the wall to release the cat unharmed.
Cotton came a cropper in Silver Street at about 12:30 BST on Tuesday.
"After discussing options, the caring crew were given permission to make a hole in the wall to free the feline," a Cambridgeshire Fire and Rescue Service spokesman said.
One of the homeowners allowed rescuers to destroy part of their wall - even though the trapped cat did not belong to them.
Crews had to saw through brickwork in order to reach Cotton.
The cat was unharmed and returned to its grateful owners.
"Cat-astrophe averted and a paws-itive result for everyone," the fire service wrote on Facebook.