Blossom the model cow's owner baffled by mystery return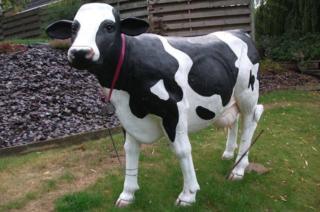 A 13-stone (82kg) fibreglass cow named Blossom that was stolen from a garden in March has mysteriously returned.
The hefty heifer was taken from Cathy Moulton's home in Ramsey Forty Foot, Cambridgeshire.
But on Sunday night, a neighbour "heard a commotion" on a nearby bridge and saw Blossom dropped off from a van.
"We were so excited it was like we'd won the World Cup," said Mrs Moulton. "We were singing, 'Football might be coming home but Blossom's home first'."
She was mystified by the theft on 15 March, and equally baffled as to why she was returned.
The police investigated the case which they admitted was "rather unusual" - but there was no trace of the life-size Friesian.
It had been staked to the ground and protected by a river and a high fence.
"We trawled the river with a grappling hook and a neighbour used his boat's sonar, but all we found was a bicycle," she said.
You may also like:
"We never thought we would see her again.
"Then, last night my neighbour called and said she'd heard a commotion on the bridge and saw someone in a van dropping something off.
"It was very dark but when she looked through her binoculars she called and said, 'I think Blossom's on the bridge'."
Mrs Moulton said other neighbours joined her and "a great tribe of us" went to retrieve the cow, just after 23:00 BST.
"Everyone grabbed a limb and we triumphantly carried her home - she's in the garage under lock and key now."
Blossom, who was given to Mrs Moulton by her husband as a retirement gift nine years ago, was "a little dusty and bruised", but otherwise seemed unharmed by the mystery cow-nappers.
"She is going to go back where she was," said Mrs Moulton.
"Now Blossom's so notorious we hope cattle rustling is at an end in Forty Foot."
Cambridgeshire Police confirmed on Monday officers were "no longer actively investigating" the theft.