Myles Bradbury: Settlement given over abuse doctor claim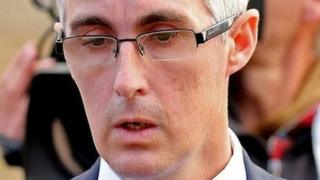 A woman allegedly sexually assaulted by a paedophile doctor has been awarded a five-figure settlement.
Myles Bradbury is serving a 16-year sentence for abusing children while working at Addenbrooke's Hospital in Cambridge between 2009 and 2013.
The 26-year-old woman said she was attacked at Birmingham Children's Hospital sometime between October 2007 and November 2008.
The hospital trust made no formal admission of liability.
Bradbury allegedly arranged an appointment with the woman to see whether she would be suitable for a certain type of medication because of a family history of blood clots.
He then requested she remove her clothing for an unnecessary physical examination without a parent in the room and then sexually assaulted her, legal papers of the decision said.
'Come forward too'
It was claimed the hospital, which is part of the Birmingham Women's and Children's NHS Foundation Trust, failed to protect young patients by ensuring they were appropriately chaperoned at appointments.
The claimant, who cannot be named, came forward after receiving a letter from the trust following Bradbury's conviction.
She said: "When the letter arrived from the hospital I thought back to when I had seen Bradbury and how inappropriate my examination had been.
"It was difficult to come forward, but I am glad I did. I hope that by me coming forward, if there are other boys and girls who were abused by him, they will come forward too."
The trust made no formal admission of liability and a spokesman said the settlement had been agreed via solicitors instructed on its behalf.
A spokesman for the trust said it had conducted an audit following Bradbury's conviction, adding: "The safety of the children and young people we see is a priority."