Duxford Mustang air crash: AAIB report cites 'luck'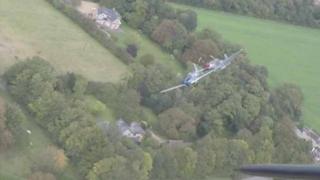 A mid-air collision between two vintage planes could have had a "catastrophic outcome" had it not been for "providence", an investigation found.
The Mustangs collided when they both flew the same side of a Boeing B-17 rather than one flying on each side of it at a show near Cambridge last year.
One pilot failed to stick to the agreed formation plan, the report said.
There was only minor damage, but an investigation cited pilot "complacency" during preparation for the display.
Both pilots managed to land their 1944 P-51 Mustangs safely after the accident during the Battle of Britain Air Show at Imperial War Museum Duxford on 23 September.
'Omissions'
Before the formation flypast section of the display the two pilots had agreed one would join the B-17 on the right side and the other on the left, an Air Accident Investigations Branch (AAIB) report stated.
However, once in the air, both tried to join on the right, causing the tail of one plane to make contact with the propeller of the other, damaging it, along with the left horizontal stabiliser of the other.
The report into the accident found the pilots did not do a "walk-through" of the formation part of the display and were "predominantly focused" on the aerobatics they were to perform.
THE AAIB concluded: "There appears to have been omissions, possibly resulting from a degree of complacency during the briefings and subsequent walk-through".
It added: "It was only providence that prevented this accident from resulting in a catastrophic outcome."
Following the investigation, the Civil Aviation Authority (CAA) amended its guidance on safety requirements during flying displays to "strongly recommend" that walk-throughs were "adopted as a standard part of all formation briefings".
A spokeswoman for IWM Duxford said it was a "minor incident" and that the AAIB's recommendations had been "incorporated into Imperial War Museum air show preparations".