HMP Littlehey conditions 'lamentable', says charity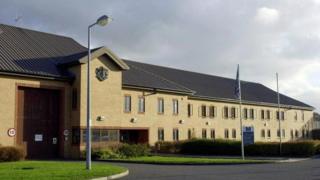 Conditions at a sex offenders' prison that prompted complaints from inmate Max Clifford are "lamentable", according to a charity.
The Independent Monitoring Board (IMB) has sought urgent funding for HMP Littlehey, Cambridgeshire, to allow inmates "to live in decent conditions".
The Howard League for Penal Reform said "no prison should be allowed to deteriorate in this way".
The Prison Service said an issue with the hot water system had been resolved.
The jail, at Perry, near Huntingdon, houses more than 1,000 male sex offenders, who included disgraced celebrity publicist Max Clifford until his death in December, aged 74.
At a pre-inquest review, Clifford's daughter Louise said he "complained for weeks and weeks to me that it was becoming impossible to shower adequately", and about a lack of heating.
The IMB report, which covered 1 February 2017 to 31 January 2018, said some showers had been broken for two years and some cells left without heating for eight months.
At the beginning of January, more than 1,300 planned maintenance jobs were outstanding.
The IMB found "disproportionate" staff time was spent on maintenance issue and noted "the breakdown of trust due to an inability to meet prisoners' basic needs".
But it "commended" the actions of senior management, including making portable heaters available on wings.
Andrew Neilson, director of campaigns at the Howard League for Penal Reform, said: "The lamentable conditions in Littlehey are indicative of the pressures that exist in our overburdened and under-resourced prison system.
"No prison should be allowed to deteriorate in this way, but it is particularly shocking in a jail where around half of the prisoners are over 50 and a significant number are elderly and disabled."
The Prison Service said: "Earlier this year, engineers resolved an issue with the hot water system at HMP Littlehey.
"We put in place alternative measures for the small number of affected prisoners to ensure they continued to have access to hot water."