Cambourne pub murder accused 'acted in self-defence'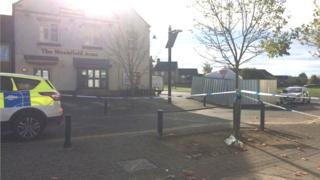 A man accused of murdering a fellow pubgoer was described in court as a "stupid, frightened boy" who had acted in self-defence.
Chris West, 30, was stabbed 12 times outside the Monkfield Arms in Cambourne, on 27 October, a jury heard.
Cambridge Crown Court was told Kai Nazir "lashed out in a moment" after being targeted during a "proper old ding-dong" outside the pub.
Mr Nazir, 20, of St Neots, denies murder and attempted murder.
Live updates from the East of England
The prosecution has alleged that Mr Nazir stabbed Mr West's friend Daniel Berryman near the pub's pool table, leaving him needing life-saving surgery.
Mr Berryman's blood was found in a pocket on Mr Nazir's jumper - but the victim could not remember his attacker, the court heard.
In her closing statement, Isabella Forshall QC, defending, said Mr Berryman's description of his potential attacker did not match that of Mr Nazir, but that of another man in the pub that evening with "extreme pinpoint clarity".
She said Mr Nazir had been "slammed onto the pool table and held around his neck" by Mr West, who accused him of stabbing his friend.
The court heard Mr Nazir then left the pub followed by a group - and while outside there was a "scene of violence towards [him]".
Ms Forshall suggested to the jury "small, slight" Mr Nazir had been attacked by the "bigger, older man" Mr West.
She called Mr Nazir a "stupid, frightened boy, injured, outnumbered, wiping blood from his eye [that] lashed out in a moment".
Mr Nazir has no memory of what happened, Ms Forshall said.
He denies murder, attempted murder, grievous bodily harm and possession of a knife.
The trial continues.