Fitzwilliam Museum shows 'iconic queer art' jewellery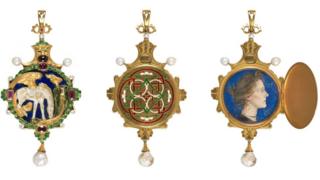 Late 19th Century jewellery with "an iconic place in the history of queer art in Britain" is going on display at an exhibition in Cambridge.
They were created by artist Charles Ricketts for the literary couple Katherine Bradley and Edith Cooper.
The pair had a personal as well as literary relationship and wrote under the pen-name Michael Field, until the truth behind the name was uncovered.
The pieces are part of a collection owned by the Fitzwilliam Museum.
The museum will exhibit 70 items of jewellery and metalwork, many on display for the first time and much of it previously undocumented.
Katherine Bradley was Edith Cooper's aunt and the pair wrote poetry and plays.
Museum research assistant Helen Ritchie said their relationship "broke the rules dictated by 19th Century society" and they "enjoyed a long and devoted romantic relationship".
The discovery that Michael Field was in fact two women "undoubtedly affected their commercial success", she said.
In 1894 they met Ricketts, whose partner was the artist Charles Shannon, and the couples became friends.
Only some of the pieces created for the women have survived and the jewels exhibited were bequeathed to the Fitzwilliam by Bradley.
The objects are a "previously overlooked" part of the museum's collection, according to the director of the Royal Collection Tim Knox, who was until recently the Fitzwilliam's director.
He said it does not have room to permanently display all its collections and the exhibition will showcase "extra­ordinary examples of craftsmanship".
Ms Ritchie said they "tell a story of industriali­sation and trade, of travel and exploration and the effect of other cultures on British life and design".
The majority were donated by Anne Hull Grundy, who was born in Germany to a Jewish family which emigrated to England in 1933.
Ms Ritchie said: "In many ways... she was the first collector to take jewellery seriously as another avenue of art history."