Superhero breast cancer doctor dons 'Incredibles' outfit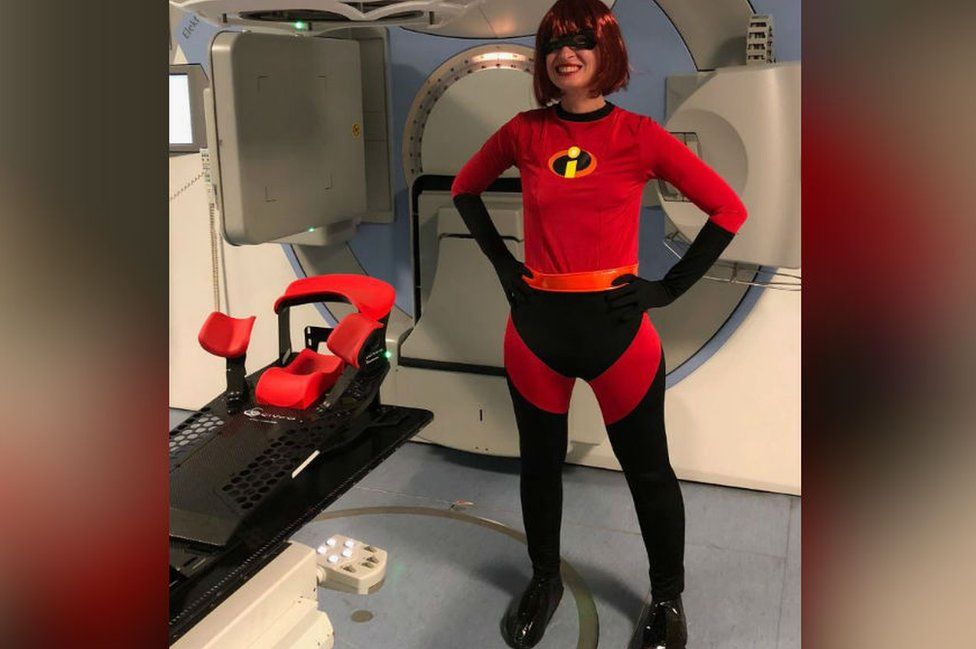 A breast surgeon diagnosed twice with breast cancer herself celebrated her final radiotherapy session by dressing as a superhero.
Dr Liz O'Riordan turned up at Addenbrooke's Hospital in Cambridge as "Mrs Incredible" - the Elastigirl character from film The Incredibles.
She was inspired to do so after being called "incredible" for her work to raise awareness of the condition.
She said wearing the costume was the "scariest thing I've ever done".
She added: "You can have fun during treatment and I do feel incredible."
Dr O'Riordan, 43, who works as Miss Liz Ball at Ipswich Hospital in Suffolk, was given the all-clear in 2016 after having surgery for stage three breast cancer.
However, in May she was diagnosed with a local recurrence of the same cancer.
The keen triathlete had kept up with her training during treatment, even cycling to her chemotherapy sessions, and blogged about the condition.
She and her husband bought superhero costumes for a park run in 2016 after being told they were like "Mr and Mrs Incredible", but never got round to wearing them, she said.
However, for her final radiotherapy session on Tuesday, the surgeon pulled on her red and black costume, complete with wig and eye mask, and drove from her Suffolk home to Cambridge.
"I thought I should do something to mark the end of my treatment after the cancer came back, and thought, 'can I get away with wearing the outfit?'," she said.
"I did - and it was the scariest thing I've ever done, walking through Addenbrooke's from the car park, through the concourse past all these strangers - it was really daunting, but felt amazing knowing people were thinking, 'who is she, what's she doing and where is she going?'
"People thought I was stark, raving mad, but lots of kids recognised me and it was brilliant that I made them laugh as they were on their way to their own treatment," she said.
"The radiotherapy staff loved it as well, no-one had ever dressed up for them before."
Dr O'Riordan has written a book with another doctor and cancer survivor which will be published at the end of September, however, she still faces further surgery before that.
"I do feel incredible, though," she said.
"It's like having a second lease of life - you don't take it for granted - and I have come through it.
"That is why I wore the costume - to show you can still have fun during cancer - I think everyone should dress up."
Related Internet Links
The BBC is not responsible for the content of external sites.