Cambridge University gatehouse restoration completed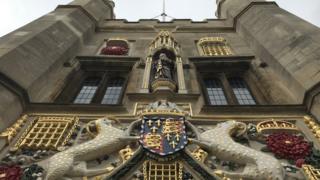 One of Cambridge University's imposing college gates has been restored by a paint job that has taken four years to complete.
The heraldic detail, which dates from the early 1500s, had not been painted for "many years" and had started to look faded.
The four-year project included research into the original colours and methods used, repairs, and the painting itself.
College bursar David Ball said he was "really pleased" with the result.
The Gatehouse on St Andrew's Street is the main entrance to Christ's College and is highly visible to tourists and shoppers in the city.
It was built by Lady Margaret Beaufort, the grandmother of Henry VIII, who founded the college in the early years of the 16th Century.
Much of the facade, including the late 16th Century oak doors, remained largely unchanged until the masonry was refaced with harder stone in 1714. A statue of Lady Margaret was added in the 19th Century.
Mr Ball said: "It's many years since we last repainted the gatehouse, and in total it's taken about four years to research the right colours to be used, to restore wear and tear to the stonework and then to complete the repainting itself, which was undertaken by some very skilled craftsmen and women.
"We're really pleased with the results."
The restoration was carried out by Longstanton-based Brown and Ralph, which said the conservation of the stonework would "not only increase its natural life but also brighten the Cambridge streetscape".
Poet John Milton and naturalist Charles Darwin are among Christ College's notable alumni.