Plans to tackle pigeon poop at Cambridge University approved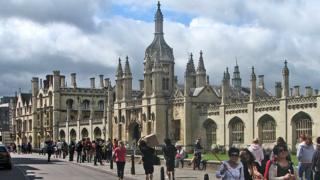 Plans to help prevent pigeons from pooping on people at a Cambridge University college have been approved.
The ornate gothic stonework on the Grade I-listed King's College entrance is not only attractive to tourists, but also to roosting and nesting birds.
The college had initially wanted to use spikes as a pigeon prevention measure.
But Cambridge City Council has now given the college permission to fix plastic discs which will not be visible from the historic King's Parade.
King's College, founded in 1441 by Henry VI, is one of Cambridge's most recognisable landmarks, attracting thousands of visitors every year.
The college said in its application that the birds' droppings had been "causing mess and coming into contact with college staff that are posted at the gates throughout the day as well as visitors and paying customers".
It also said that the nesting pigeons led to "unsightly damage to stonework".
Responding to the application, local charity Cambridge Past, Present and Future said "this application does not address the long-term aims as it will only move the birds onto another building, or to a different part of the same building".
The charity also raised concerns that the silicone used to attach the discs to the building could cause damage to the stonework.
But in its assessment the council said "the development must be undertaken adhering to good conservation practices to ensure the stonework is not damaged".
If the discs fail to work, the council has said they should be removed in a way which causes no damage to the building, which was designed by William Wilkins in 1824.