Cambridge digitises Virginia Woolf's A Room of One's Own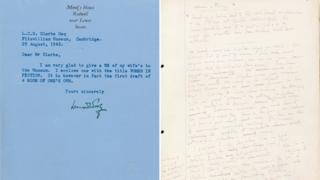 The manuscript of a "ground-breaking" feminist work has been put online to mark the opening of a Virginia Woolf exhibition.
The writer based A Room of One's Own on two lectures she gave to women's colleges at Cambridge University.
The city's Fitzwilliam Museum is to put the original manuscript on display, and has also uploaded a digital version.
Curator Suzanne Reynolds says "it is one of the founding texts of 20th Century feminist thought".
The exhibition, which opens on 2 October, celebrates Woolf's writing and showcases the works of more than 80 artists on the themes of female identity, domesticity and landscape.
Her personal possessions, including family letters and a teapot painted by her sister Vanessa Bell, will also be on display.
Woolf had strong links with Cambridge and her father, brothers and husband all studied in the city.
In 1928, she delivered two lectures urging female students at Girton and Newnham colleges to establish a "room of one's own", which became the basis of the book.
Dr Reynolds, who is the Fitzwilliam's assistant keeper of manuscripts and printed books, said: "[The book] was absolutely ground-breaking in its examination of the limitations that have been placed on women's lives and their creativity throughout history, and limitations on women's access to education and cultural experiences."
In it, Woolf said a woman needed money and a room of her own if she was to write fiction.
Dr Reynolds said it included a passage about how two female characters in fiction nearly always talked about the male protagonist, and added "what a radical step it would be if they were talking to each other about each other", pre-dating the Bechdel Test used in films.
Cambridge is the third and final stop of the exhibition, which has traced a geographical path of Woolf's life from St Ives in Cornwall to Pallant House in Sussex.