New bridge cost over Peterborough rail line doubles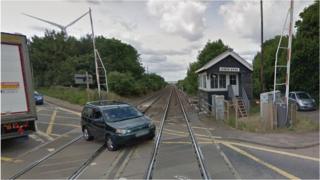 The cost of a new road bridge over a rail line to cut congestion has more than doubled to £30m, a council said.
Cambridgeshire County Council said the crossing over the Peterborough to Ely rail line was a "bigger job than first imagined".
Critics said design work should have been done first as a cheaper route might have been found.
Cambridgeshire and Peterborough Combined Authority will be asked to approve extra funding later this month.
The level crossing at King's Dyke is a constant source of delays for commuters between Whittlesey and Peterborough.
The original estimated cost for the project was £13.6m, but has risen due to civil engineering challenges, contractor's cost increases and higher land prices.
Conservative councillor for Whittlesey North Chris Boden said decisions were made about the route before detailed design work had been done.
"If this detailed design work had been done at an earlier stage it's quite possible a different and cheaper route would have been chosen for the bridge," he said.
The county council's economy and environment committee will recommend awarding a further contract to Kier Construction next Thursday.
Committee chairman Conservative Ian Bates said: "This is a much bigger venture than first imagined.
"This first phase has now been completed and verified, resulting in a number of significant changes to the initial design ... following investigative groundwork and traffic surveys.
"This project is of incredible value to the residents of Cambridgeshire and Peterborough, as the scheme will support plans for transport improvements and economic growth in both areas.
"We will be looking to the combined authority for its support."
Cambridgeshire and Peterborough Combined Authority will decide whether to approve the extra funding at its executive board meeting on 31 October.