HMP Whitemoor: Prison 'breaching UN torture protocol'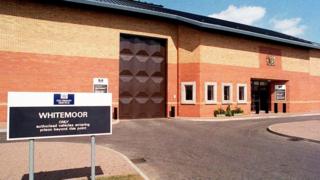 A prison's use of solitary confinement is in breach of a UN torture protocol, a report has said.
HMP Whitemoor in Cambridgeshire was found to lock inmates in a segregation unit for more than 23 hours a day, with "little meaningful human contact".
Its Independent Monitoring Board said this broke the UN's Optional Protocol to the Convention Against Torture.
A Prison Service spokeswoman said "segregation can be used as a last resort for limited periods of time".
More than 400 men are housed in the three-wing maximum security prison, near March, including a number of the highest-risk inmates.
The report found that in May the five longest-term residents in Whitemoor's segregation unit had been there for between 184 and 362 days and were "not always treated fairly or humanely".
"Residents had to choose between a daily shower or a phone call," it added.
'Shocking and degrading'
A rise in the use of new psychoactive substances, such as Spice, following the smoking ban was also a concern, inspectors said.
The report found that two men in the segregation unit who had taken Spice "set themselves on fire", sustaining life-threatening injuries.
"The most basic human decencies" were also being breached across the prison because it "routinely fails to provide clean clothing, bedding and cleaning materials", it said.
Frances Crook, chief executive of the Howard League for Penal Reform, said: "The shocking and degrading treatment of prisoners in segregation at Whitemoor is totally unacceptable, but it has been going on for years.
"It is an utter disgrace, and those responsible ought to be ashamed of themselves."
The Prison Service spokeswoman said it was investing in safety features including airport-security style scanners, phone-blocking technology, enhanced perimeter searches and more drug detection dogs, which will help tackle the issue of Spice.
She added: "When those in custody are putting themselves or others at risk, segregation can be used as a last resort for limited periods of time when no other form of intervention is suitable.
"This is particularly important in prisons like Whitemoor which contain some of our most dangerous offenders."