Wrong-name Cambridge Half Marathon winner can re-apply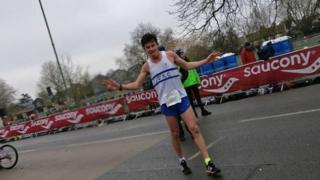 A half marathon winner, who was then disqualified, has been invited back for next year's event - as long as he does not run under his boss's name again.
Jack Gray, 25, took the place of his injured boss Andrew Rawlings at March's Cambridge Half Marathon and finished first, but fell foul of the rules.
Race director Adam Moffat said they would "welcome" Mr Gray back.
But Mr Gray said he was "undecided" and may prioritise other races as he seeks international selection.
The transport planner beat more than 7,000 runners to win in his first half marathon, and came within a minute of the course record with a time of 66 minutes and 52 seconds.
When he finished he heard the name "Andrew Rawlings" ringing out over the public address system, and told organisers who he really was.
Sheffield student William Mycroft, who came second, was then declared the winner.
'Long shot'
Mr Gray said there were two different races he was considering next year - one on the same weekend as the Cambridge race and one the week after - that were "important for international selection".
He said his aim was to run the marathon at the Commonwealth Games in his home city of Birmingham in 2022.
"It's a long shot but it's too tempting not to have a crack," he said.
You may also like:
Mr Moffat said he would encourage Mr Gray to sign up for Cambridge when the application process opened on Thursday. Next year's race is on 3 March.
He said: "Although disappointed by the outcome of last year's race we would welcome Jack back to see if he can repeat last year's feat.
"But obviously we don't want him to run under his boss's name again."