Stephen Hawking's personal items to be sold at auction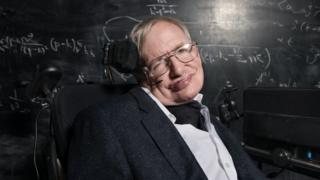 A signed copy of Prof Stephen Hawking's PhD thesis is expected to raise more than £100,000 at an auction this month.
The 1965 thesis, which crashed Cambridge University's website when it was published online, is one of 22 items being sold by Christie's.
Others include a wheelchair and a book bearing the physicist's thumbprint.
Prof Hawking's daughter Lucy said the auction would give people the chance to "acquire a memento of our father's extraordinary life".
Medals, awards, scientific papers and the script for one of Prof Hawking's appearances on The Simpsons will also be going under the hammer as part of the sale, entitled On the Shoulders of Giants.
His wheelchair will be the last lot, with all proceeds going to the Stephen Hawking Foundation and the Motor Neurone Disease Association.
Online bids for the 22 items can be placed between 31 October and 8 November.
Ms Hawking said Christie's had been helping the family "manage our beloved father's unique and precious collection of personal and professional belongings".
She added: "We hope to be able to offer our father's archive to the nation through the Acceptance in Lieu process as we feel it is a huge part of his legacy but also of the history of science in this country."
The Acceptance in Lieu scheme allows those who are liable for inheritance tax to pay it with heritage property. Prof Hawking's scientific archive will be offered in its entirety, as well as the contents of his office.
The physicist, who lived and worked in Cambridge, died in March, aged 76.