Oliver Cromwell's 'baby gown' loaned to Cambridgeshire museum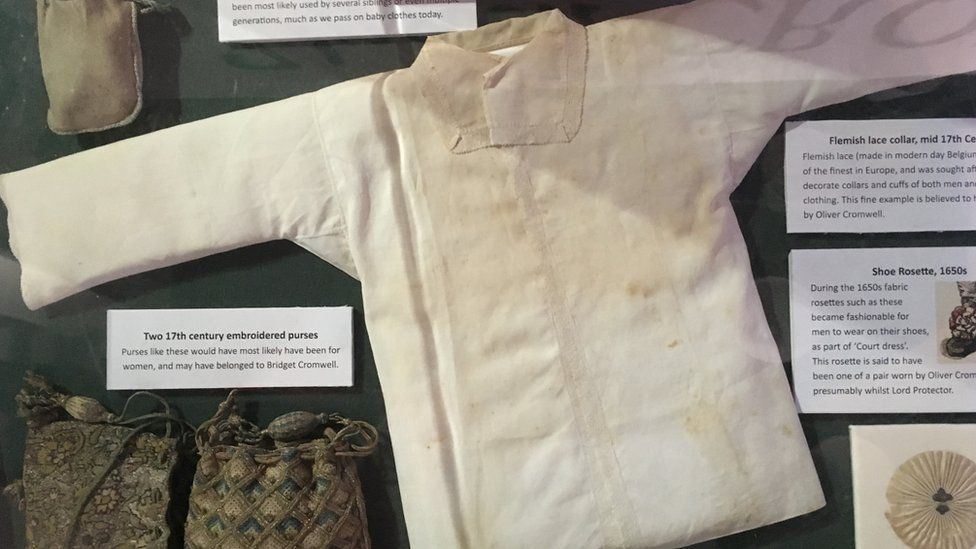 A baby's gown reputed to have been worn by a young Oliver Cromwell has gone on display for the first time after being loaned by a distant relative.
A lace collar and gloves are also among items loaned to the Cromwell Museum in Huntingdon by Frances Woodd, related through his eldest daughter's marriage.
The museum's curator said it was a "privilege" to display the items.
Cromwell is famed for the rebellion against King Charles I which saw the monarch put on trial and beheaded.
The items have been passed down Ms Wood's family for 350 years through the "fiercely proud" daughter of Cromwell's eldest daughter Bridget.
A door lock, also on loan, to is believed to have been used to secure Cromwell's bedroom door whilst he was living at Hampton Court as Lord Protector - following the execution of Charles I on 1649.
The museum is located in the former Huntingdon Grammar School building, where Oliver Cromwell went to school.
Stuart Orme, curator of the museum said: "It's a real privilege for us to be able to display this remarkable collection of items, which have such a great provenance for being owned by Cromwell having been passed down through a branch of his family for the last 350 years.
"Most have never been publicly displayed before - those that have were last seen at an exhibition over 60 years ago, so this is a once in a generation opportunity to see very personal items that belonged to one of the most famous figures in British history."
He served as an MP for Huntingdon in the Parliament of 1628-9 and for Cambridge in the Long Parliament in 1640.
He helped the Parliamentarian forces defeat Charles I during the Civil War and was one of the signatories on the king's death warrant.
For this reason he was posthumously executed by Charles II following his return to the throne in 1660.
Related Internet Links
The BBC is not responsible for the content of external sites.