Cambridgeshire mayor James Palmer slammed over £94k payoff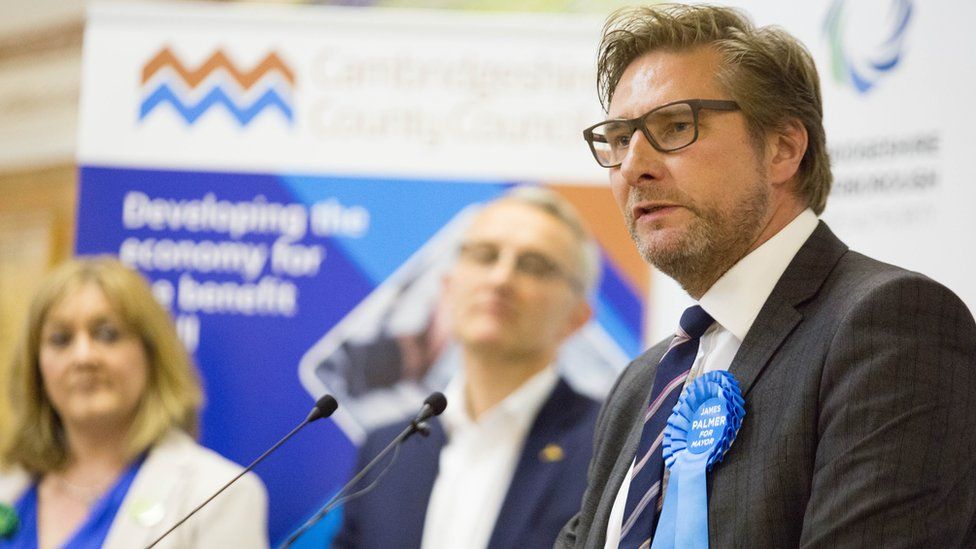 A mayor has been criticised for claiming the public are not "even slightly interested" in the £94,500 payoff given to a former council boss.
James Palmer, mayor of Cambridgeshire and Peterborough Combined Authority, said Martin Whiteley resigned as chief executive in August.
He claimed the reason Mr Whiteley left was something that only "excites a few people on the scrutiny committee".
But angry taxpayers took to Twitter to say he was "out of touch".
Last week, a Freedom of Information request revealed Mr Whiteley was given £94,500 when he left the authority.
The circumstances surrounding his departure remain unclear, the Local Democracy Reporting Service (LDRS) said.
Mr Palmer - who agreed the payout without consulting other board members - said he did not think the public was "even slightly interested" in it, claiming they cared more about local improvements. "Martin Whiteley resigned after discussions we had about the direction the combined authority was going in," he said. "We have got interim chief executives in, the combined authority's delivery is going in the right direction and I am very happy with the changes that have been made."
After an interview with Mr Palmer was shared online, dozens of people attacked the mayor's "arrogance", claiming he was "playing with our money" and "living in cloud cuckoo land".
@MayorJPalmer is so out of touch if he thinks just a few excited individuals are interested. It's pretty much the talk of #Fenland market villages about the £100k that has been handed out because allegedly two "old mates" fell out. There is so much more to this. #DiscreditedMJP

— Tris Casson-Rennie (@tris2506) October 31, 2018
Martin Whitely should be MADE to pay the public purse back as this is potentially a shady deal between @MayorJPalmer & himself because of the lack of transparency. It is outrageous this is not before the courts. Fingers crossed it will be soon.

— Tris Casson-Rennie (@tris2506) October 31, 2018
Mr Palmer confirmed he had taken independent legal advice about the severance payment and said there was a "reason" the agreement reached between Mr Whiteley's legal representatives and the combined authority had not been made public.
Earlier this week, Lucy Nethsingha, chairwoman of the authority's overview and scrutiny committee, said she was shocked to hear Mr Whiteley's "huge" payoff had been approved by Mr Palmer alone.
The committee heard he was not required to consult other board members because his "general power of competence" covered decisions over large individual payments.
Related Internet Links
The BBC is not responsible for the content of external sites.