Oyster 'beast' weighing 1.7kg harvested on Mersea Island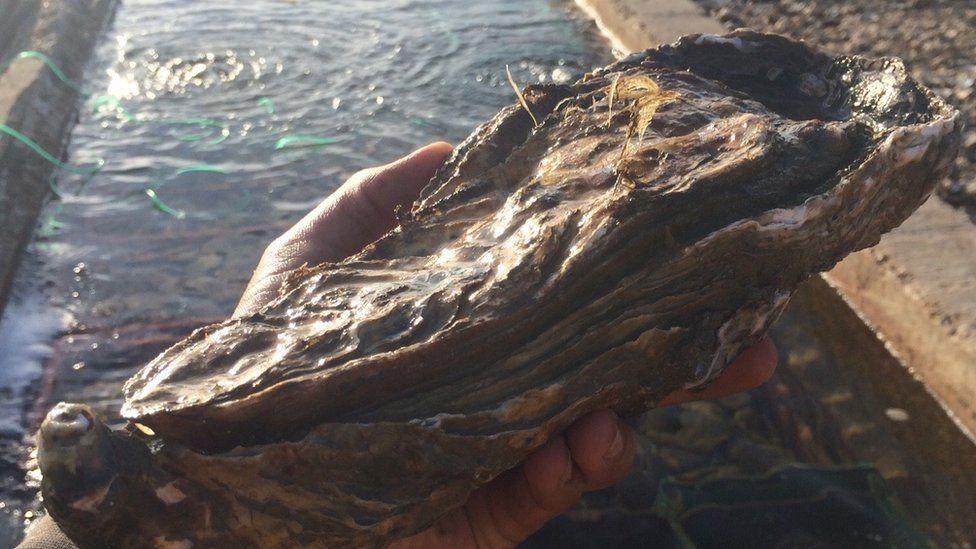 A "beast" of an oyster weighing 1.7kg (3.7lb) and thought to be up to 20 years old has been harvested by a seventh generation oysterman.
The 29cm (11in) by 12cm (5in) mollusc was discovered by Richard Haward at his oyster bed at Mersea Island, Essex.
His son Tom Haward said the farmed oysters did not usually "get a chance to live that long and get that big".
The oyster must have been hidden in a muddy dip in the river bed to have survived so long, he added.
The Haward family have been farming the molluscs at their 14 acre (5.6 hectare) oyster bed on the river Blackwater since the mid-18th Century.
The bed is regularly dredged, which is why they were surprised to find such a large survivor.
Tom Haward, 37, said a restaurant-grade oyster weighed in at 140g (5oz) and the largest oyster they sold was usually 300g (10oz).
He added: "My dad taught me to shuck oysters aged 11 and I have only once or twice before seen such a large one - it is a beast.
"I'm 99% sure that if I shucked it, it would be full of meat."
However, his father has hinted it might be reprieved, posting on the company Facebook site: "We're thinking of putting it on our oyster beds to see how much longer it grows in the next year."
The family estimated it could be between "15 and 20 years old" due to its size.
Related Internet Links
The BBC is not responsible for the content of external sites.