Shepreth Wildlife Park tiger Amba, 20, put down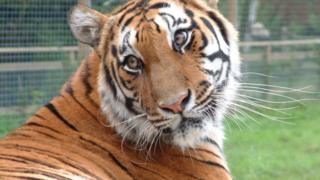 A 20-year-old tiger has had to be put down after developing arthritis, a wildlife park has said.
Amba will be "deeply missed" having lived at Shepreth Wildlife Park for 17 years.
She arrived with male companion Rana, who suffered from the same chronic condition and died last year.
The park's director Rebecca Willers said: "It is with incredible sadness that we inform you Amba was put to sleep."
She said discussions with vets about Amba's arthritis meant she had started to lose her ability to move around.
"It was an incredibly hard decision for her team and vet to make to euthanise her today," said Ms Willers.
"But it was the only right decision for her as her welfare remains our top priority, especially over our own emotions."
The park added the tigers' arrival at the park - then known as WillersMill Wild Animal Sanctuary - sparked its transformation into Shepreth Wildlife Park and its focus on conservation.
The park said their two tigers had helped to raise more than £60,000 for tiger conservation schemes in Asia.
Tigers can have a lifespan of up to 20 years in the wild, according to the World Wildlife Fund.