Wisbech murder: Dzilva Butiene 'relied' on man who killed her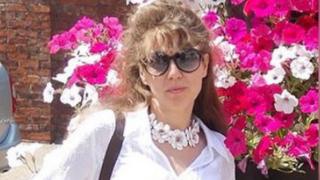 An isolated and vulnerable woman who faced alcoholism and cancer was stamped to death by the controlling partner she had relied on, a report has found.
Mother-of-two Dzilva Butiene was murdered by Kestutis Bauzys - who had convinced her to move from Lithuania to England - in Wisbech, in April 2017.
A Domestic Homicide Review said Ms Butiene, 48, who spoke limited English, "seemed to have nowhere to turn to".
The report said it was likely others would be "in a very similar position".
When the body of Ms Butiene was discovered in the flat they shared in the Cambridgeshire town, she had more than 60 bruises and marks on her chest and abdomen. Bauzys was jailed for life with a minimum of 17-and-a-half years.
Although the report is anonymised, the BBC understands it relates to Ms Butiene's death.
A report, made by Fenland Community Safety Partnership (FCSP), said Ms Butiene was unable to find consistent work after her treatment for cervical cancer in 2014, had few close friends and very limited English and was unaware of any support agencies.
"She appears to have become reliant on the perpetrator for her needs," it said.
"It is difficult to imagine how her life must have been, given that she seems to have had nowhere to turn to, or been aware of how she could have sought support."
Ms Butiene and Bauzys had known each other from school and he persuaded her to move to the UK, where he was already living, "on the promise of a better lifestyle" in September 2013.
She was described as a "tiny, meek woman" by a previous employer, while he was known to be a body builder who used steroids.
When Ms Butiene was admitted to the Queen Elizabeth Hospital in King's Lynn for a seizure and spasms in November 2016 she told staff she was depressed "but said that by agreement with her partner she had agreed not to disclose this to hospital staff".
Bauzys also told staff he injected her with magnesium sulphate.
The report said: "Both of these actions give some indication of a controlling relationship and if [Ms Butiene] had been minded to discuss an abusive relationship this is the type of situation which should be identified as an opportunity and maximised."
It added a referral to mental health services for her depression or support for alcohol dependency, which had increased, appeared not have been considered.
Following recommendations from the report, the hospital's chief nurse, Emma Hardwick, said it had "revised process [which] includes direction for staff to ask all patents direct questions relating to domestic abuse".
A FCSP spokesman said review recommendations are "translated into an action plan, with individual actions being identified as either national, county or Fenland specific".