Huntingdon thief caught out by Yoda tin fingerprint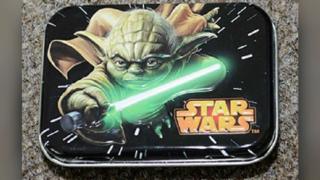 A bungling burglar was caught out by a fingerprint he left on a tin depicting Jedi Master, Yoda.
Matthew Douglas broke into flats and a car in Huntingdon, Cambridgeshire, and stole electrical items, a briefcase and the Star Wars tin.
But the 28-year-old dropped the latter as he fled one of the properties, leaving a fingerprint which led to his capture.
Douglas, 28, admitted two counts of burglary and one of theft.
He was jailed at Peterborough Crown Court for three years and two months.
Douglas, of Muttongate, Huntingdon, stole first aid supplies from a vehicle and a number of items from the flats on 2 June.
Police were able to identify him from the fingerprint he left on the Yoda tin.
Det Con Neil Patrick, of the Cambridgeshire force, said: "Over the course of a week Douglas went on a stealing spree with no consideration for others or the distress he may cause."