Lorry driver 'burned' by power lines sues for damages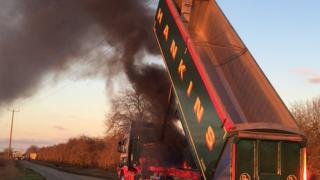 A lorry driver who suffered "severe burn injuries" when his trailer hit overhead power lines is suing for damages at the High Court.
Gary Chisholm, 45, of Lake Close, March, was clearing grain from the truck in Block Fen Drove on 11 February 2016, the court heard.
His barrister claimed D&R Hankins Ltd's risk assessment was "inadequate".
The company denied health and safety breaches and said there was "no need to activate the tipping mechanism".
Judge Jeremy Johnson QC was told Mr Chisholm was driving a Scania R440 Tractor Unit with a tipper trailer.
He was transporting different types of load and had to clean the trailer between each deposit, parking up in a lay-by to do so, his barrister Daniel Lawson said.
Mr Lawson said Mr Chisholm raised the vehicle's trailer, and the top "rose close to, or into contact with" 11kV electrical power lines.
The court heard he suffered injuries of "great severity" to his lower limbs, stomach and right arm, and later had his right leg amputated below the knee.
Mr Lawson claimed D&R Hankins' "breaches of duty in this case were manifold and serious", and that the company's pre-accident risk assessment was "woefully inadequate".
Finding safe spots to clean vehicles was a "persistent and significant problem" for lorry drivers, he added.
Lawyers for D&R Hankins denied any health and safety lapses, and said the driver had failed to adopt the "well-known" and "taught" practice for cleaning trailers between loads.
There was "absolutely no need to activate the tipping mechanism", they said. The hearing continues.