Cambridgeshire Mayor dismisses chief finance officer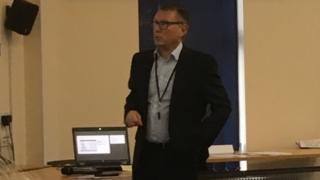 A finance officer has been sacked after a row over escalating costs, according to the Mayor of Cambridgeshire.
Conservative Mayor James Palmer said he had lost faith with Karl Fenlon, chief finance officer for the Cambridgeshire & Peterborough Combined Authority.
Mr Palmer claimed Mr Fenlon misled the authority's board about funding for major projects.
But senior board members have described the move as "extremely worrying" and have called for an independent review.
Mr Fenlon is the fourth interim chief finance officer appointed since the combined authority was set up in 2017.
His dismissal was announced at the authority's audit and governance committee by the Mayor, said the Local Democracy Reporting Service.
At a previous meeting of the authority's scrutiny committee, Mr Fenlon cast doubt over whether major projects could be achieved within budget.
He had estimated the annual running costs of the combined authority at £7.6m this year, compared to an estimate of £850,000 which Mr Palmer had made while running for office in 2017.
Mr Palmer apologised for the miscalculation. earlier this week.
Audit committee members questioned the dismissal.
Labour's Richard Robertson, a Cambridge City Council representative, described Mr Fenlon's report as "one of the best, most open and honest appraisals of the true situation that we've seen in months".
Lewis Herbert, Labour leader of Cambridge City Council, called for an independent review and said "several of us do not approve of the sacking of a finance officer of the highest skill and integrity".
Liberal Democrat Nichola Harrison, who is also on Cambridgeshire County Council, and asked if Mr Fenlon would receive a pay out.
Mr Palmer could not confirm whether any financial settlement had been awarded.
The news follows the resignation of the Combined Authority's chief executive Martin Whiteley, who was given a £94,500 payout when he left in August.