Storm Thorgerson: Pink Floyd artist's work goes on show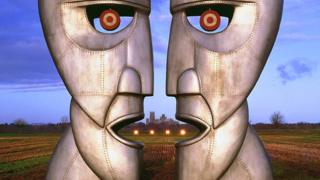 The work of the artist who designed classic album covers for acts such as Pink Floyd is going on show in the county that inspired him.
Graphic artist Storm Thorgerson, who died in 2013, also worked with Muse and Biffy Clyro.
The Fenland landscape featured in much of his surrealist work, including the Pink Floyd album The Division Bell.
A spokesman from Babylon Gallery in Ely said: "This man designed half your record collection."
In a career spanning six decades of music, Thorgerson, who grew up in Cambridge, was perhaps best known for his work with prog-rockers Pink Floyd, whose members Syd Barrett, Roger Waters and David Gilmour also grew up in the city.
His most iconic cover was for The Dark Side of the Moon album. After his death drummer Nick Mason recalled Thorgerson's "great ideas and high, sometimes infuriatingly high, standards".
Photographer Rupert Truman, who worked with Thorgerson on other covers in the 1980s, said: "The number of people who have some of our art is pretty staggering when you think about it - how many people have got a copy of The Dark Side Of The Moon?
"We often worked with bands when they were really small. Pink Floyd were unknown when Storm started working with them and I remember when we started working with Muse, for example, I didn't know who they were."
Mr Truman said that typically Thorgerson and a band would "bat a bunch of ideas around", and it was his job "to realise these wacky ideas".
For the cover of The Division Bell, which features Ely Cathedral, Mr Truman said he "drove around all of this area for days and days taking pictures of fields".
"It stands out because it's a place familiar to the band, somewhere they would have hung out," he added.