Arrests as Extinction Rebellion ruins Trinity College lawn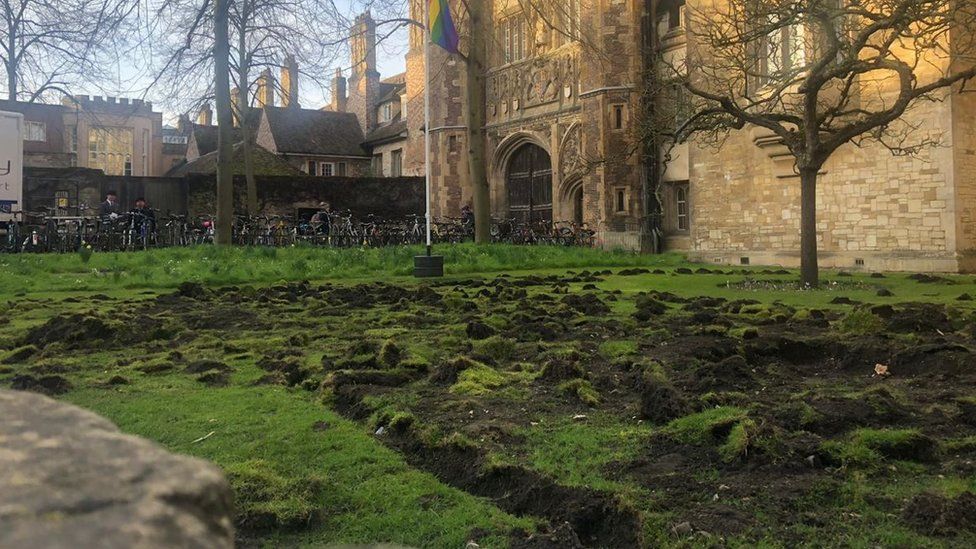 Three people have been arrested after climate activists dug up a lawn outside a Cambridge University college.
Extinction Rebellion members destroyed part of the lawn at Trinity College on Monday in a protest over its role in a major development in the countryside.
Four other people were held following further acts of criminal damage in the city on Tuesday, police said.
The five women and two men are in custody and investigations are continuing.
Two of those arrested are also suspected of obstructing a police officer.
Activists involved in digging up the lawn said the action was taken against "the destruction of nature".
Trinity owns Innocence Farm in Trimley St Martin, Suffolk, where plans were submitted for a lorry park. The scheme was rejected.
Police said Trinity College was assisting with the investigation.
On the third day of action, about 40 protesters gathered outside a research centre run by global oilfield services firm Schlumberger, to the west of the city.
Related Internet Links
The BBC is not responsible for the content of external sites.