Two guilty of HMP Whitemoor terrorist attack on prison officer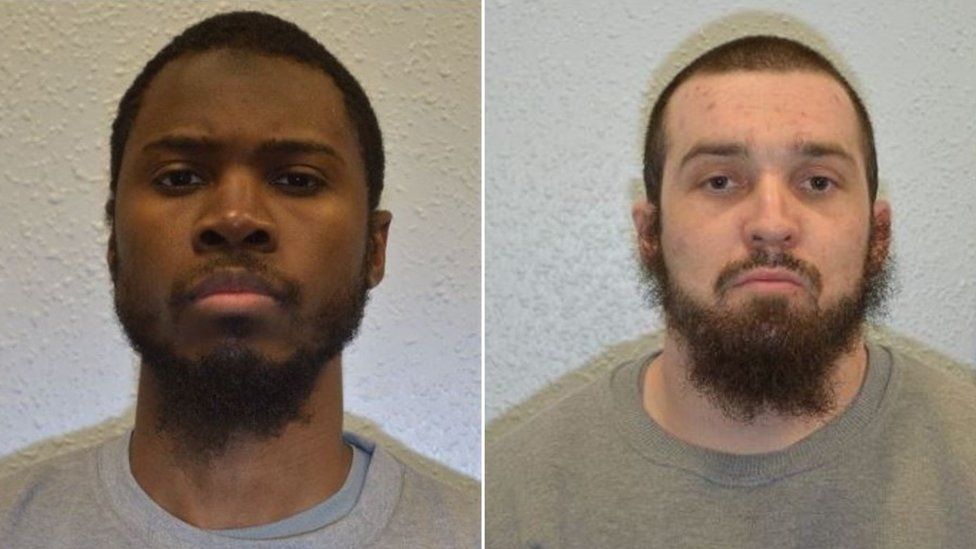 Two inmates have been found guilty of attempting to murder a prison officer in an Islamist terrorist attack at a high-security jail.
Convicted terrorist Brusthom Ziamani, 25, and Baz Hockton, 26, attacked Neil Trundle at HMP Whitemoor, Cambridgeshire, on 9 January.
The Old Bailey heard the pair "lured" Mr Trundle to a cupboard and assaulted him with makeshift weapons.
Ziamani had wanted to move prisons, the court was told.
Jurors heard Ziamani had befriended Hockton while serving a 22-year sentence for plotting an attack in 2014 "inspired by the murder of Fusilier Lee Rigby".
The two men together made makeshift bladed weapons and fake suicide belts before luring the "kind and helpful" officer to a store cupboard on the pretext of asking for a spoon, it was said.
They then set upon the officer, targeting his vulnerable head, upper chest and neck areas, shouting "Allahu Akbar" - God is greatest.
Nurse Jayne Cowles and prison officer Georgina Ibbotson were also hurt as they tried to stop the assault.
The court heard how Ziamani had opened his jacket to expose the fake suicide belt when another officer intervened, saying: "I've got a bomb."
An examination of the belts revealed one had been constructed with a battery and pressurised can, while the other was fashioned from boxer short elastic, electrical cable and plastic bottles, the jury were told.
Prosecutor Annabel Darlow QC told the court the attack was terrorist-related, with Ziamani's plan to become a "martyr" spelled out in handwritten notes.
Ziamani, originally from Camberwell, south London, had denied attempted murder and an alternative charge of wounding with intent, but admitted assaulting the two women.
He told the court he wanted to be transferred because Whitemoor had become hostile to Muslims in the wake of former inmate Usman Khan's attack at Fishmonger Hall, a claim Mr Trundle denied.
Hockton, originally from Dagenham, who declined to give evidence, had denied attempted murder but admitted wounding with intent.
Following the verdicts, Mr Trundle thanked his colleagues, who he said "risked their lives coming to my aid on that terrible day."
Commander Richard Smith, head of the Met's Counter Terrorism Command, said: "This was a calculated and horrific attack by two prisoners who had one aim - to try and murder prison staff.
"I would like to pay tribute to the outstanding professionalism and bravery of the courageous prison staff who responded to the incident. Their quick and selfless actions saved the life of their colleague that day."
The two men will be sentenced on Thursday.
Related Internet Links
The BBC is not responsible for the content of external sites.