Teddie Mitchell: Man guilty of murdering 'perfect little baby'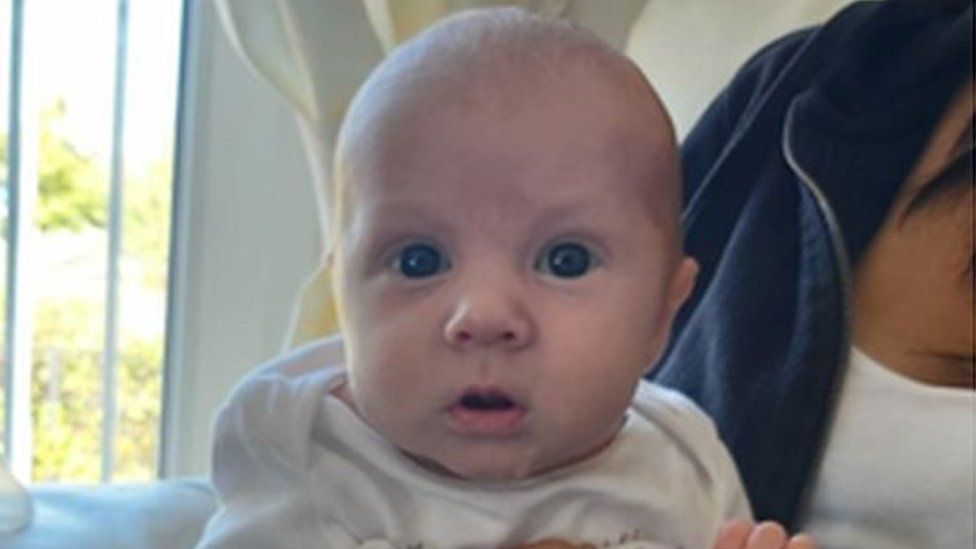 A man with a "violent disposition" has been found guilty of murdering his partner's 12-week old son.
Kane Mitchell, 31, killed Teddie Mitchell in the flat he shared with the boy's mother, Lucci Smith, in St Neots, Cambridgeshire, in 2019.
Smith, 29, who when giving evidence at her trial called Teddie a "perfect little baby", was convicted of cruelty to a child.
The pair are due to be sentenced on 5 February.
Cambridge Crown Court heard that while Mitchell was not Teddie's father, the pair raised him as if that was the case.
Prosecutor Karim Khalil QC had told the court Teddie was "subjected to a violent assault" in the flat on 1 November 2019 and died 10 days later.
"He received fatal injuries as a result of being gripped hard, shaken vigorously and having his head struck against a hard surface," said Mr Khalil.
Jurors were told Teddie suffered rib fractures, fractures to his collar bone and a fractured skull, and died from serious brain injuries.
The injuries suffered "would have led to Teddie screaming in pain... up to a point when he would have become unconscious", the court heard.
Smith was "charged with failing to act once it was obvious that Teddie was very seriously ill", said Mr Khalil.
He said Smith was urged to "call an ambulance immediately" at around 14:30 GMT but did not dial 999 for more than 30 minutes.
Mitchell was also found guilty of causing or allowing serious harm to a child.
Smith was cleared of causing or allowing the death of a child and of causing or allowing serious harm to a child.
The trial was also told of interactions with health visitors and social services.
In July 2019, Smith spoke of her anxiety about receiving a letter from social services, but on a review of the case they felt no further action was required.
After a fight between Smith and Mitchell, in which he punched his partner, they were assigned a social worker at the end of September 2019.
The court heard a social worker raised the issue of domestic violence with Smith, but the defendant pointed out that Mitchell was in the house and that brought the conversation to an end.
A Cambridgeshire County Council spokeswoman said the case was subject to a local child safeguarding practice review "so it would be inappropriate to comment until this is complete".
She said the review was "considering learning points for all the agencies that worked with the family".
"For a very young child to have been killed in their home where they should feel safe by those who are there to protect them is clearly a tragedy. That those responsible have been brought to justice is clearly welcomed," she added.