Covid-19: Lockdown could 'lose a generation' of young people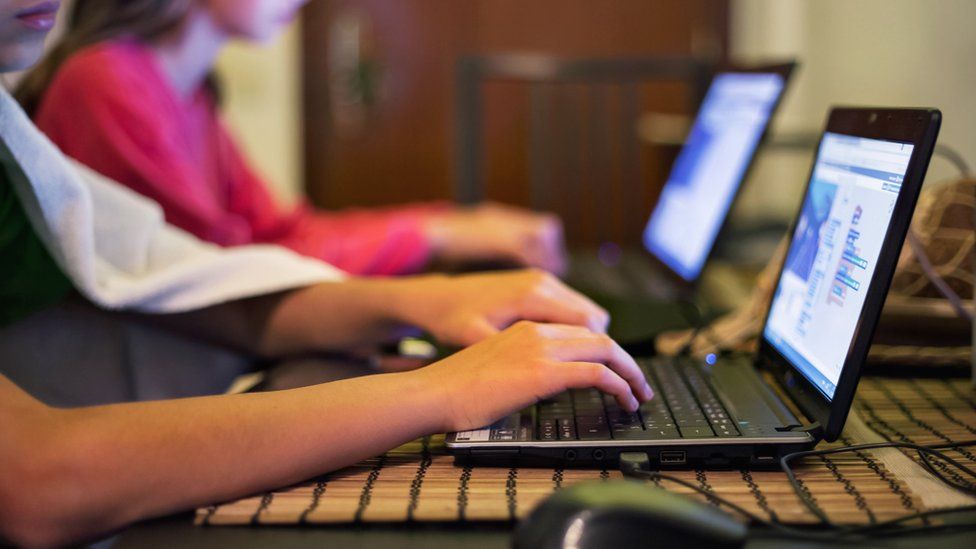 A "whole generation of young people" could be lost to education during the Covid-19 lockdown because they do not have access to digital learning, a leading charity warned.
Schools have been closed to most children, meaning remote-learning at home with lessons via the internet.
Rae Tooth, of the Villiers Park Education Trust, is concerned about children without computers.
The government said it was providing thousands of laptops for pupils.
Ms Tooth, chief executive of the Trust, based at Foxton near Cambridge, told BBC Politics East that "digital poverty" hits the ability of children to learn if they have no access to the internet, (or can only access if via smartphones with small screens).
Ofcom has estimated that 9% of children in the UK do not have a PC, laptop or tablet at home.
According to the Office of National Statistics, only 51% of households earning £6,000-£10,000 had home internet access compared with 99% of households with an income of more than £40,000.
Ms Tooth said: "I see high levels of disengagement with those young people; not because they wouldn't engage given the opportunity, but because they can't engage.
"If a child misses an English lesson where they are reading a class book, he can't just come in to the next lesson, because he has missed a chapter and it doesn't make sense.
"We have got to get the right tech to the kids, free or affordable access to the internet and support parents to give them a good working environment at home.
"If nothing is done we are going to lose a whole generation of young people, because they have not been able to learn."
Chris Newman, head of school at Bignold Primary in Norwich, said: "We have children who struggle to access and have no engagement at all with online learning.
"Demand for devices is far outstripping the supply available. Our academy trust ordered 60 iPads in the summer and no iPads have arrived because suppliers can't get hold of them."
Ms Tooth added that she was concerned there had been little research on the effectiveness of digital distance-learning.
"We don't know what effective teaching looks like when online. How do you make sure young people are engaged?" she asked.
"We'll only find out too late, when they are doing exams."
She added: "These children will become parents who are also disengaged from learning. So it's also an inter-generational problem."
The Department for Education (DfE) said this week a further 300,000 laptops and tablets will be delivered to schools in England to help disadvantaged children learning from home due to the coronavirus crisis.
A spokesman said the boost brings the total number of laptops and tablets being made available for pupils to 1.3 million.
Education Secretary Gavin Williamson said: "These additional devices, on top of the 100,000 delivered last week, add to the significant support we are making available to help schools deliver high-quality online learning, as we know they have been doing."