Storm Christoph: Cambridgeshire fields 'saturated' with more rain forecast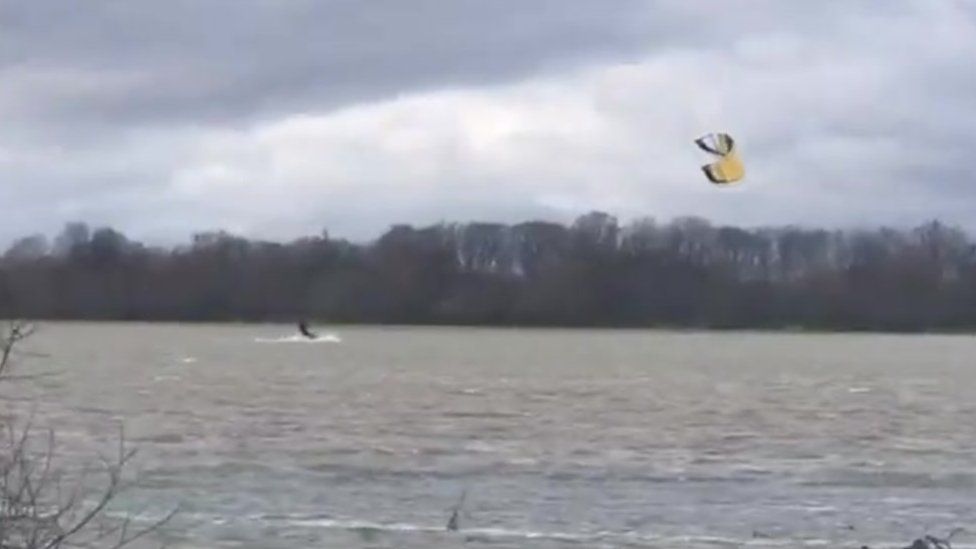 Roads in Cambridgeshire have flooded and fields become "completely saturated" before the worst of Storm Christoph is expected to hit England.
There are three flood warnings - meaning flooding is expected - in the county, two on the River Nene and one on the River Glen.
Less severe flood alerts were also issued, including for the River Great Ouse, and the River Cam.
The Environment Agency's Andrew Raine said: "River levels are very high."
He said there had been 10mm of rain overnight, and was expecting "up to 30mm of rain in places" due to Storm Christoph.
An amber rain warning was in place for much of Cambridgeshire, but the Met Office has downgraded it to a yellow rain warning until 12:00 GMT on Thursday.
Michael Sly, a farmer in Thorney, near one of the flood warnings, said roads alongside the River Nene were "already flooded".
"We're cut off from going south," he added.
Mr Sly, who grows wheat, mustard, and peas, said: "The ground is completely saturated, it can't take anymore."
He said having spoken to other farmers, including those in their 70s and 80s, he believed there had "never been such a consistently-wet period as we've had in the last six weeks".
Mr Sly said he had measured a third of the average yearly rainfall in the past month and a half.
He added: "With climate change we now have intense periods of rain and intense periods of drought."
Jay Hill, whose mother's house in March was flooded in December, said he delayed the replacement of her carpets and skirting boards in case of more flooding.
He said his partner had "sat up all night worrying" about whether his mother's house would flood again.
"We've planned for the worst case scenario, using sandbags to barricade the doors, but with a large amount of water if it's going to come in then it's going to come in," he added.
Cambridgeshire Fire and Rescue Service warned people not to "enter flood water, either on foot or in a vehicle".
It said residents should "only be travelling for essential reasons".