St Ives: BMW driver with frozen windscreen sentenced for crash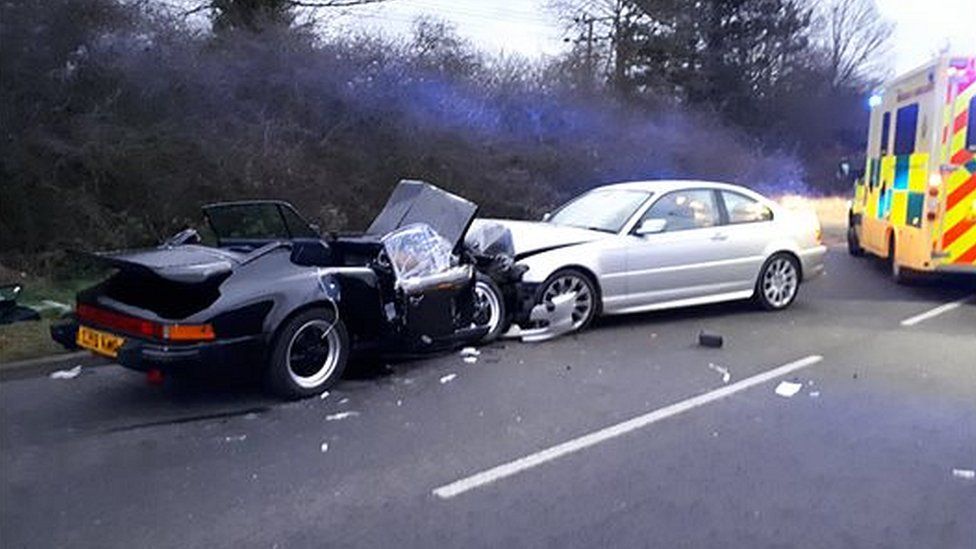 A BMW driver whose windscreen was obscured by frost when he crashed into a Porsche, causing serious injury, has been given a suspended jail sentence.
Vlad Pasat of St Ives, Cambridgeshire was turning a corner in December 2018 when he drove on to the opposite carriageway.
The 33-year-old only had 50% visibility through the bottom of the car's windscreen, police said.
He pleaded guilty to causing injury by dangerous driving in December.
Two people were in the Porsche 911, and the driver had to be freed by firefighters, before he was taken to hospital with a shattered femur.
When interviewed by police, Pasat said he was late for work and admitted he had not cleared the ice from his windscreen properly before setting off.
PC Ian Swales said: "It is almost beyond belief that Pasat decided to set off for work without being able to see in front of him when driving.
"The consequences of his actions left a man with serious injuries but could have been so much worse."
The Porsche driver recovered from his injuries but still suffers with pain, police said.
Pasat was sentenced to seven months in prison, suspended for 18 months, at Cambridge Crown Court.
He was ordered to complete 175 hours of unpaid work and disqualified from driving for two years.