Covid-19: 'Hugging and kissing' investigated at Wisbech mayor's pub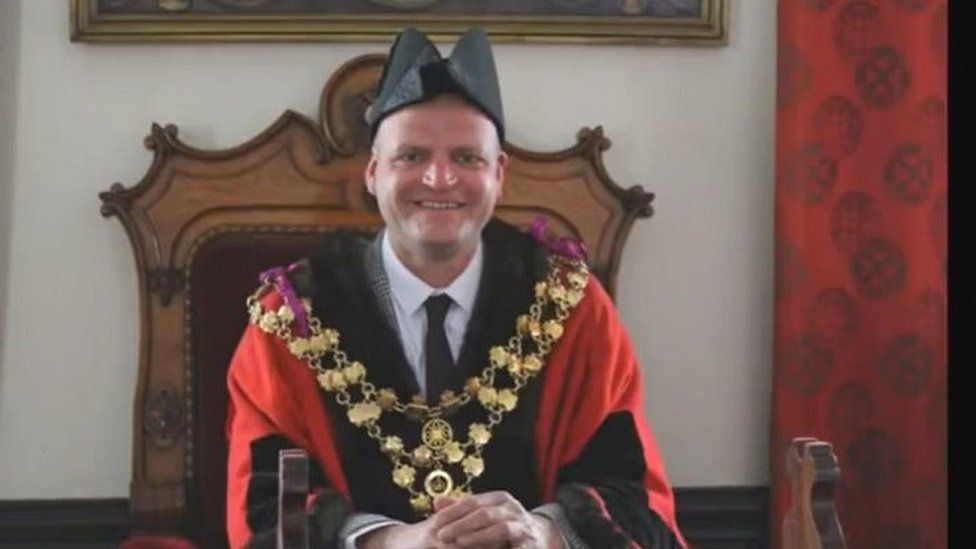 A mayor is facing allegations that he breached Covid restrictions after claims people were seen "hugging and kissing" in his pub on Christmas Eve.
Aigars Balsevics, Mayor of Wisbech, is alleged to have allowed breaches of regulations at the town's Angel Inn.
Fenland District Council has been reviewing the pub landlord's licence after investigating CCTV footage.
The council's licensing committee met on Monday and said it would make its decision within a week.
Mr Balsevics became Conservative mayor of the Cambridgeshire town in May after being elected chairman of the town council.
At the time of the alleged breaches, Wisbech was in tier two of the government's coronavirus restrictions, meaning that face coverings needed to be worn, only table service was permitted in pubs, and households were not allowed to mix.
Fenland's Licensing Committee heard that on 24 December customers and staff were observed "mingling/mixing freely and on many occasions seen having physical contact between different tables and different households i.e. hugging, kissing, shaking hands and even mock fighting/wrestling".
It is further alleged that the pub was "not adopting Covid-19 practices".
Trevor Darnes, Fenland's senior environmental health officer, concluded that "the evidence is quite clear from the footage" that there had been "no attempt" to stop people mixing.
"Therefore I question whether [the landlord] is capable of running the operation," he said.
Representing Mr Balsevics, and Elgood's Brewery, which owns the pub, David Dadds questioned whether health and safety breaches fell within the remit of the committee.
Mr Dadds said there had been "no offences under the Licensing Act".
"There are alleged offences under Covid regulations which have not been proved yet and it's not for you to establish if there is innocence or guilt in those," he said.
Mr Darnes said it was the role of the meeting to decide whether the landlord had "complied with the licensing objectives".
In a statement, PC Paul Hawkins, from Cambridgeshire Police, said they had been informed a private party for a football club was being held at the pub and CCTV footage requested by the council "clearly shows Balsevics, the staff and the patrons in complete disregard of the Covid restrictions that were in force at the time of the incident".
Brenda Barber, a pub customer, said she had "always found Mr Balsevics to be a conscientious and professional publican".
Although she was not there on Christmas Eve, she said she had been going there for several years and it would be a "tragedy" if he lost his licence.
The committee chairman Michael Humphrey said "after five-and-a-half hours of this meeting and due to the amount of evidence to go through" a decision would be made within five working days and that it would be published on the council website.
Related Internet Links
The BBC is not responsible for the content of external sites.