Cambridge girl's 46-mile trike challenge for Addenbrooke's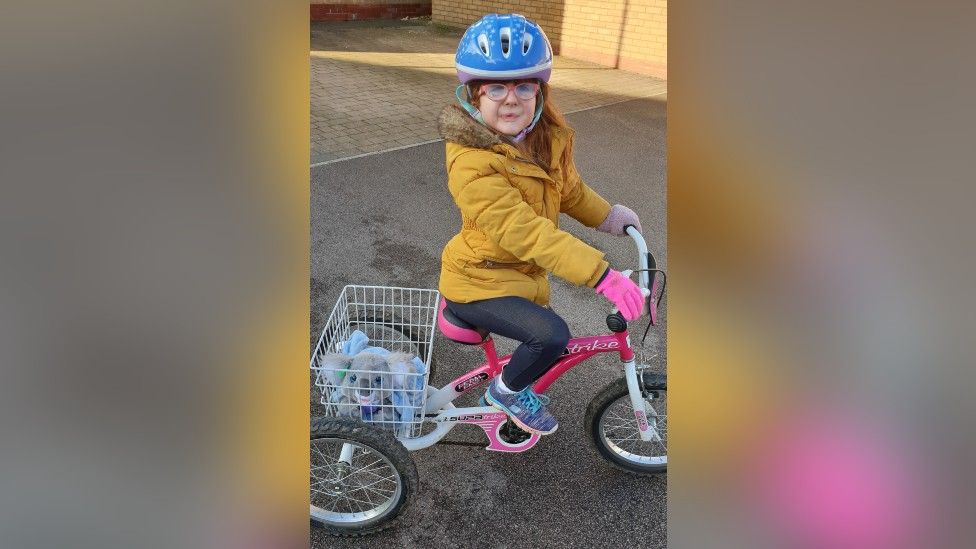 A seven-year-old girl with a condition that affects her movement has cycled 46 miles to raise money for the hospital that has treated her since birth.
The genetic condition affected the development of her hands and feet and also led to scoliosis, making everyday tasks difficult.
She was joined by school friends to cycle the final mile on her trike.
"I'm so proud of myself," she said.
Isla, who lives in St Neots, had been learning about Egypt at school when she heard about the Giza Pyramids Virtual Challenge, which takes participants through a 46-mile trail between Cairo and the Seven Wonders of the Ancient World.
She decided to take it on to raise money for Addenbrooke's Hospital.
"I chose Addenbrooke's Children's Hospital because they've taken care of me since I was little," she said.
Isla's mother, Nadine Hastings, said her daughter had been through 10 operations to provide her with more movement in her hands and feet.
"We see ear, nose and throat specialists, audiologists as she is partially deaf, ophthalmologists as her eyesight isn't great and we also have physiotherapy," she said.
"Isla can normally give directions to people looking for clinics in the hospital she knows it that well."
Ms Hasting said Isla had "smashed her target" of raising £500, with the total currently £8,960.
Isla had found it difficult to ride a bike due to her neck muscles being locked into place which affects her balance.
"I decided to think of a different way and at Christmas I bought Isla a trike," Ms Hastings said.
Ms Hastings said her daughter had looked forward to receiving a medal from the mayor on completion of the challenge, as well as the "biggest party" she has been promised when lockdown ends.