Peterborough: Bronze Age boats conservation gets funding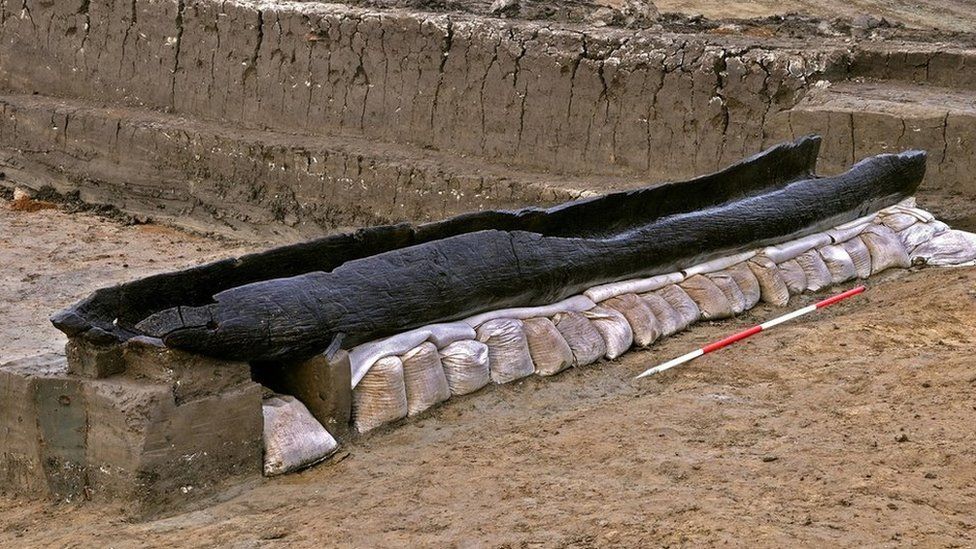 Eight "internationally significant" Bronze Age wooden boats found in a quarry have been awarded funding for ongoing conservation work.
The vessels were discovered by archaeologists as they excavated land at Must Farm near Peterborough in 2011.
Historic England has awarded £73,261 to preserve the log boats as part of a three-year project.
Tony Calladine, from the heritage organisation, said the boats were "incredibly rare".
He said the log boats, which date from 1300BC to 700BC, offer an insight into how people lived and moved through the Fens landscape.
Historic England said the boats were all made from single oak trees that were felled using bronze axes.
A spokesman said they were "interesting because they show a variety of different designs were in use, including different shapes, sizes and widths as well as different ways of constructing them".
"In some cases they also show evidence of repair. Because they are so well preserved it is also possible to see the marks of the metal tools used to cut them down and shape them," he added.
Between 2011 and 2012, full excavation of the boats was carried out at the site in Whittlesey by the Cambridge Archaeological Unit, funded by Forterra, the owners of the land.
They have since been on display in climate-controlled conditions at the nearby Flag Fen Visitor Centre where they are constantly sprayed with a wax and water solution to prevent any further decay.
Flag Fen has been described as one of the most important Bronze Age archaeological sites in Britain, and its centrepiece is the remains of a stilted wooden causeway that was built over the marshy landscape.
Mr Calladine said: "The impact of Covid-19 has been immediate and devastating for many cultural and heritage organisations.
"It is vital that such internationally significant objects are protected and conserved so they can tell their story to future generations."
Further funding of £48,854 has been provided by Peterborough City Council for the project, which is being led by the York Archaeological Trust.
Steve Allen, the council's cabinet member for culture, said: "The boats will have pride of place in the new museum extension, it links Must Farm and Whittlesey Heritage Centre to Flag Fen to the Peterborough Museum.
"This will create a must-see UK and international 'Bronze Age trail', boosting the local economy and footfall to the city centre."
Related Internet Links
The BBC is not responsible for the content of external sites.