Cambridge University: Butterfly found pressed inside centuries-old book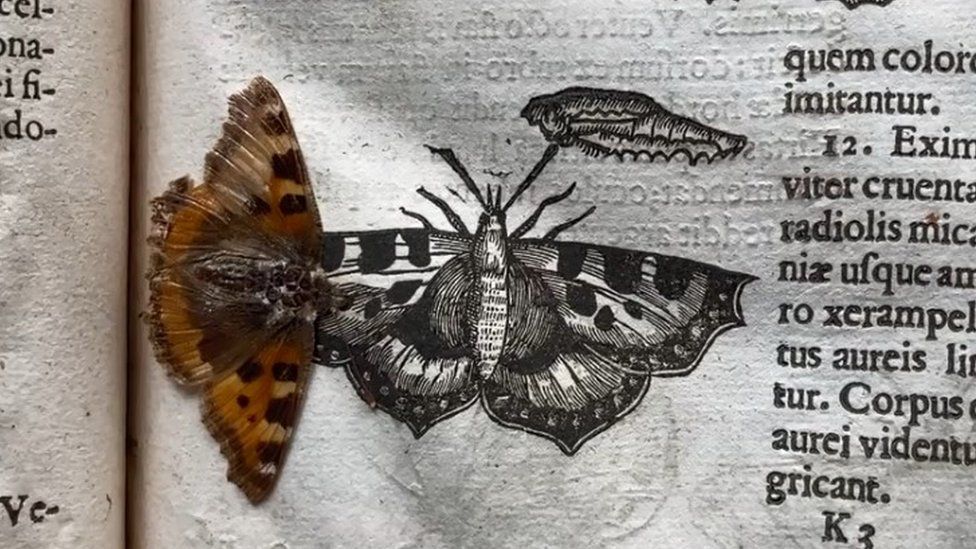 A butterfly found pressed within a 387-year-old book could be as old as the tome itself, a university says.
The creature was found between the pages of the Theatre of Insects in the Jerwood Library of Trinity Hall, Cambridge.
The college acquired the book in 1990 and said the butterfly's preservation could date back as far as 1634.
The small tortoiseshell butterfly was found next to its accompanying printed image.
She said: "There is a striking similarity between the woodcut and butterfly, which of course was the intention so that the various species could be identified by the amateur insect enthusiast.
"It is relatively common to find botanical specimens inside old books, but unusual to find an insect specimen.
"This one could have been put there by the first owner back in the 17th century, and if so it is amazing that is has survived there for so long."
The Theatre of Insects, also known as Insectorum sive Minimorum Animalium Theatrum, was the first book published in England to be exclusively about insects.
The book was donated to the college by the family of former Trinity Hall undergraduate Lawrence Strangman who died in 1980.
Related Internet Links
The BBC is not responsible for the content of external sites.