St Ives: Man builds raft to save 'unluckiest' swan and eggs
By Charlie Jones
BBC News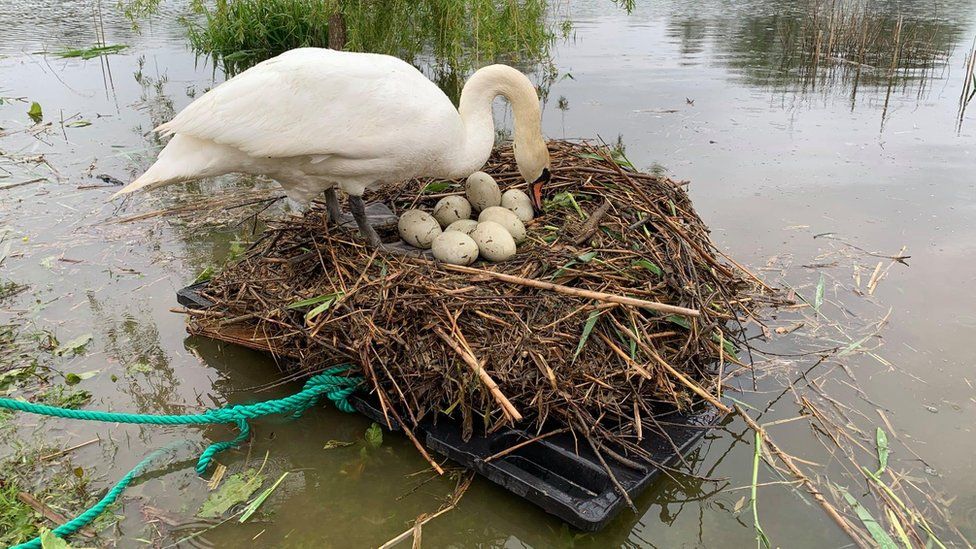 A man who built a raft to save a swan's nest of eggs was "determined" to help her become a mother for the first time.
Rob Adamson spotted she was in trouble as water levels started to rise in St Ives, Cambridgeshire, on Friday night.
He has looked after the swan for 10 years at Jones Boatyard, where he lives and works, and has seen her eggs destroyed by floods and foxes.
"She is the unluckiest swan; I needed to make sure they survived," he said.
Mr Adamson, who lives on a narrowboat at the boatyard off the River Great Ouse, noticed the water was lapping around the swan's nest late at night.
In the dark, he managed to build a makeshift raft and transfer the nest, including the swan and her nine eggs.
He said: "You're not supposed to interfere, but it had got to the point where they were all going to die.
"I couldn't go to bed knowing that. I knew I would regret it if I didn't do anything to save them.
"The dad was watching too, but neither of them attacked me. I think they knew it was their best chance."
The raft has a length of rope attached to it so that it can be moved around on the water if necessary.
He has not seen Sid for a few years, but was confident he would see him again one day, he said.
"After Sid, I've got a special place in my heart for swans and I have been watching this pair fail for the last 10 years," he said.
"I knocked up a fence to keep the foxes out and I just really want them to make it this time," he said.
He expects the eggs to hatch later this week and said he would keep a close eye on them in the meantime.
"This is why I am here, living on the water. I'm in dreamland with all the wildlife," he said.
"I wouldn't swap my boat for a £10m house."