Self-driving vehicles to be trialled in Cambridge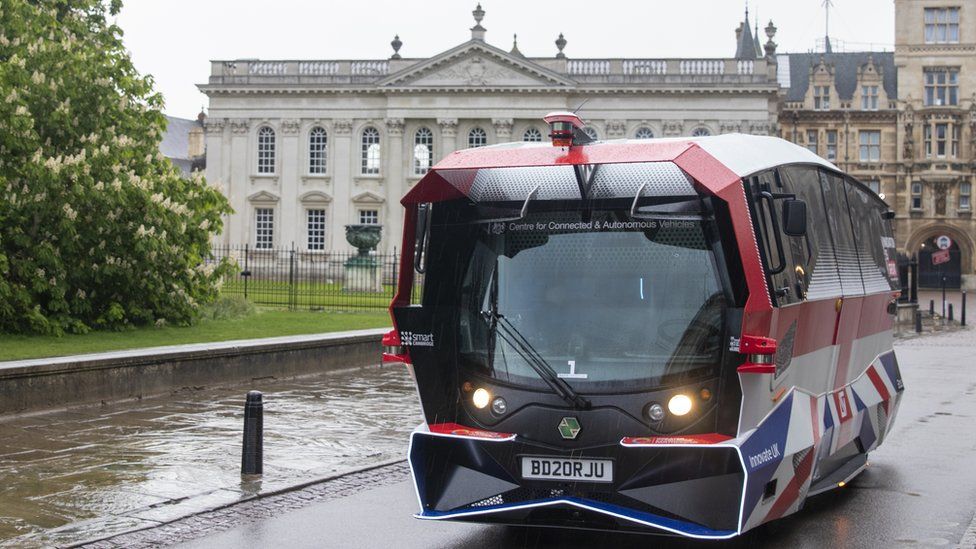 Self-driving electric vehicles which can carry up to 10 people are to be trialled in Cambridge.
Known as Auto-Shuttles, the vehicles will operate on a route between Madingley park and ride, West Cambridge campus and the Institute of Astronomy.
A trial of three of the wheeled vehicles, which will travel alongside other transport, will start next month.
The Greater Cambridge Partnership (GCP) said the vehicles had the potential to "transform travel" in the city.
Details are yet to be announced about the costs for passengers.
Although the driving will be automated, a safety operator will be in the vehicle while in use.
The GCP is organising the scheme alongside Smart Cambridge and Coventry-based engineering firm Aurrigo.
The vehicles can travel at 20mph (32km/h) and have a range of 100 miles (161km) between charges.
Claire Ruskin, director of Cambridge Network and a board member of GCP, said: "These shuttles can be used on demand all day and night, every day of the year - which is unaffordable with our existing public transport. 
"They are flexible and make good use of resources without needing much infrastructure."
Transport Minister Rachel Maclean, who was in Cambridge as the vehicles were unveiled, said: "Self-driving vehicles present a number of opportunities for the UK from providing safer, greener and more reliable transport services to creating tens of thousands of well-paid and skilled jobs across the nation."
Nik Johnson, Mayor of Cambridgeshire and Peterborough, said he was looking forward to seeing how the "trial develops" and hopes the vehicles could be used in other parts of Cambridgeshire.
Related Internet Links
The BBC is not responsible for the content of external sites.