St Ives: Forgotten Pokemon cards fetch £19K at auction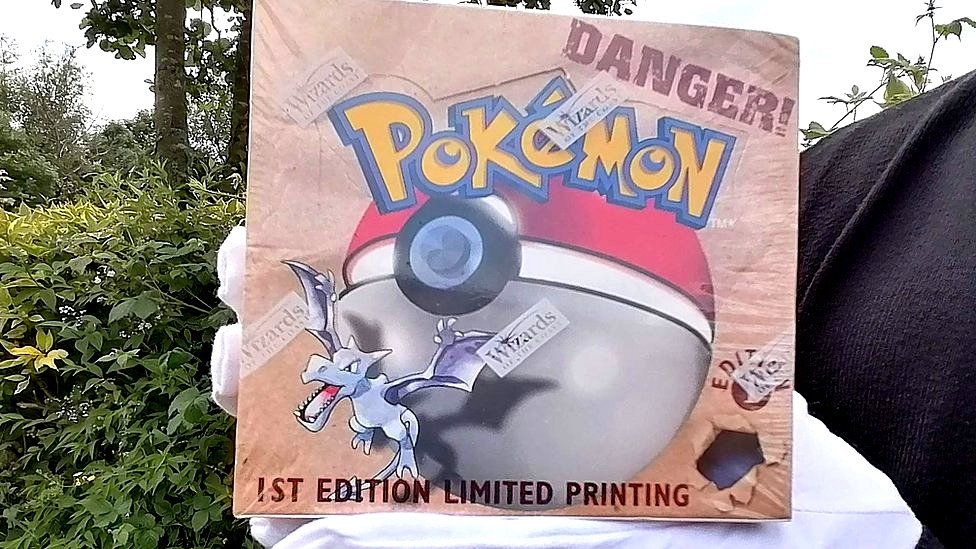 Sealed Pokemon card sets left forgotten in two boxes have sold for more more than £19,000 at auction.
The cards were sold by an electrical contractor from St Ives, Cambridgeshire, after he came across them during a house move.
They were sold by Hansons Auctioneers in Derbyshire.
The two boxes, which were bought for £30 each about 21 years ago, were sold after the owner researched the "bonkers" prices they could fetch.
One, a sealed Pokemon Fossil first edition Booster Box, sold for £10,000.
The other, a sealed Pokemon Neo Discovery Unlimited Booster Box was sold for £9,400.
Speaking before the sale, their owner said: "It is bonkers, I know, but these are the kind of prices Pokemon cards are fetching now."
Both were imported from America and were described by the auction house as extremely rare.
The original owner used to run a toy shop with his wife in St Neots, Cambridgeshire, selling Pokemon cards.
"When the shop closed, I put some of the unsold cards to one side at home, then forgot about them," he said.
"I never imagined they would be worth thousands of pounds today. But there are a lot of serious collectors now and lockdown fuelled the hobby even more."
David Wilson-Turner, head of toys at the auctioneer, said the cards were sold to two separate bidders from the UK, who wished to remain anonymous.
Pokemon cards were made for children to collect. Packs of 11 cards were priced at £2.50 each. They can now sell for £500 or more.
The Pokémon series, created by Japanese tech giant Nintendo along with games developers Game Freak and Creatures, celebrated its 25th anniversary this year.