The mother and son who waited 58 years for a hug
By Shaun Peel and Sarah Jenkins
BBC News, East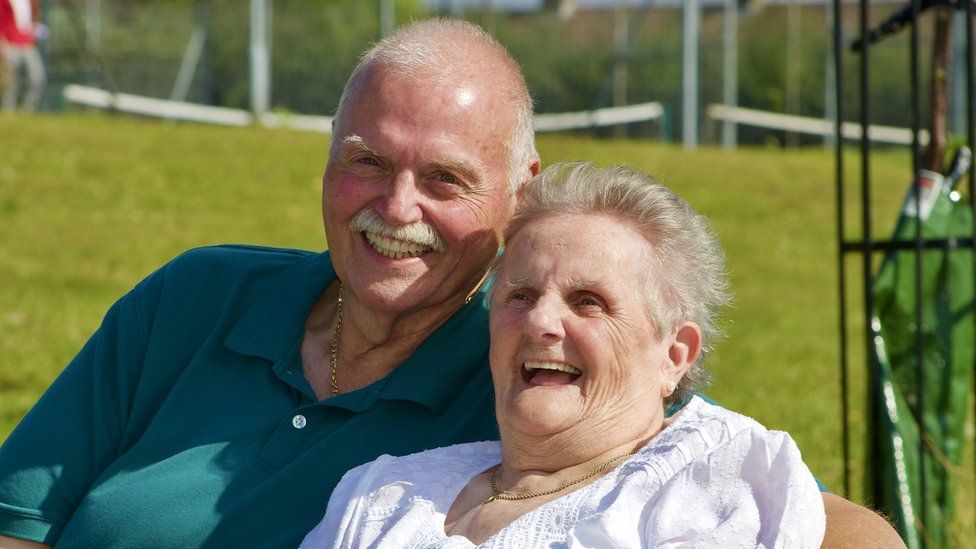 Calvin Barrett grew up without his mother but dreamt of one day finding her. How did he manage to track her down, and how does it feel to be reunited after 58 years apart?
"It's like an empty spot in my heart has finally been filled after all these years."
That is how Calvin Barrett describes finally meeting up with his mother after they were separated for nearly 60 years.
The 64-year-old, from Michigan in the United States, had been searching for his "Ma", Molly Payne, 85, from Cambridgeshire, for almost 40 years.
The pair finally reconnected after Mr Barrett's daughter, Mackenzie Barrett, did an ancestry DNA test that flagged a match with Ms Payne's nephew, Stephen Payne.
Ms Payne had met Bob Barrett in the 1950s while he was in the American Army based in the UK.
The couple married in January 1955 at St Mary's Church in Fowlmere, Cambridgeshire, before moving to the US in March.
Calvin, their first son, was born in 1957 and after their second child Michael was born, Ms Payne returned to the UK.
"I had a complete breakdown in the States," she says.
"At that point I couldn't even take care of myself, let alone my children.
"My brother sent me a ticket to go home and I went with every intention of going back to my children, but that didn't happen."
Ms Payne had sent handwritten letters to her children, as well as Christmas gifts and memory boxes, but her sons never received them.
"I did try to go back," she says.
"These boys were taken away from me - I didn't just leave them."
Mr Barrett was six when he last saw his mother.
He and his brother were brought up by their father and grandmother, but their mother was never spoken about.
Mr Barrett started looking for his mother aged 27, after his father died in 1984.
"It was an obsession with wanting to find her because I missed her," he says.
"It's been hard to deal without her. I didn't know if she was alive or dead."
In April, Mr Barrett finally got the news he had been waiting almost 40 years for when his daughter told him she had found his mother.
"It was amazing," he says.
"I was on cloud nine. It brings tears to my eyes now."
The pair first messaged on Facebook in May and had been speaking every day on the phone before their reunion at Heathrow Airport earlier this month.
"I ran right up to her," Mr Barrett says.
"I got to hold her hand and give her a big hug.
"I started bawling like a baby. The bond was still there.
"It was like an empty spot in my heart had finally been filled after all these years."
Ms Payne says she "couldn't believe it" when her nephew revealed he had been contacted by her granddaughter in the US.
"I was so excited. It was so hard for me to absorb," she says.
She felt "so overjoyed" when they first met again.
"My heart was pumping out of my body."
The mother and son have been making the most of their time together before Mr Barrett flies back to Michigan.
"We've been catching up and getting to know each other," the retired firefighter says.
"We've been hashing out old memories.
"It's just been unreal. I still have a hard time believing this is true."
Saying goodbye will be "tough", they say, but they are looking forward to spending their first Christmas together in 58 years.
"I know my son is going to come back in December for our first Christmas in all these years," Ms Payne says.
"He will help me with Christmas and we will decorate my tree together."
Ms Payne says it is hard to put into words how she feels about finally being with her son again.
"I have told him I don't think there is a mother that could love a son as deep as I love him.
"I cannot explain to you how deep this all goes with me.