24-hour pub crawl: St Neots man 'sets new world record'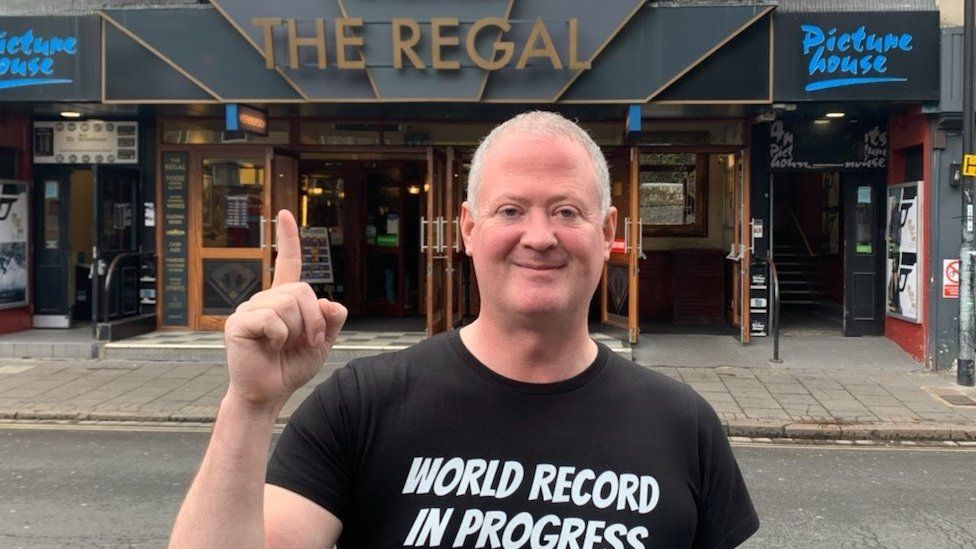 A man with a passion for pubs hopes he has set a new world record for visiting as many as possible in 24 hours.
Matt Ellis, of St Neots, Cambridgeshire, propped up 51 bars to be the first to lay claim to the title.
His pub crawl started on Sunday in Cambridge's The Regal and ended at The Weeping Ash in St Neots on Monday and aimed to raise awareness of the sector's plight during the pandemic.
"It was all about the joy of pubs and the people you meet," he said.
"Pubs over the last 18 months have had a very difficult time.
"I am a big fan of pubs - the contribution they make to our society and the camaraderie you can enjoy in them."
Under Guinness World Records rules, Mr Ellis, who runs a wine merchant's in St Neots, had to consume 125ml of any drink at each stop, visit a minimum of 50 pubs, be monitored by witnesses and get verification from pub staff.
"I then had to run to the next pub - it was probably the most difficult thing I've done in my life," added Mr Ellis, who largely limited himself to orange juice and diet cola.
"There's only so much drink you can get into your body."
Some of the "surreal" sights that kept him going were "old men doing the Macarena" and an elderly DJ "having a whale of a time" at two community pubs.
The attempt is due to be verified by Guinness World Records, which confirmed it had received Mr Ellis's paperwork.
It said there was no current holder of most pubs visited by an individual in 24 hours, but that 13 people managed to drink at 250 bars in New York in 24 hours to set the team record in September 2011.
Related Internet Links
The BBC is not responsible for the content of external sites.