Omicron: Cambridge couple stranded in South Africa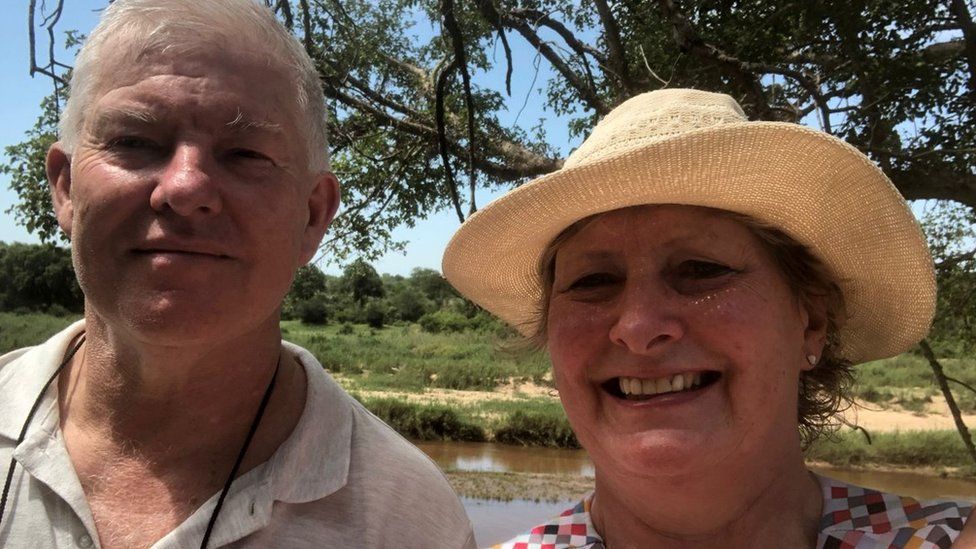 A British couple stranded in South Africa after flights were disrupted due to the Omicron variant said it had been "the most horrendous task" to get home.
Sally Storr, from Cambridge, arrived in Johannesburg on 26 November as the country was put back on the red list.
Her partner Terry Locke had arrived a few days previously to look after his poorly aunt.
She said booking flights had been "a nightmare" but they now expected to fly back on Tuesday.
"I actually only found out [South Africa was back on the list] when I landed in Johannesburg. My neighbour on the plane put her phone on and gasped, and said 'we're back on the red list'," she said.
"Consequently my partner and I spent the next 24 hours trying to search for a flight back to the UK and everything we looked at was going up in price and was going to be costing ridiculous amounts, like thousands of pounds to get back."
The British government suspended flights from South Africa due to the heavily-mutated strain of Covid-19.
"I've never been so stressed in my life as we are at the moment," Ms Storr said.
"We have finally managed to get a flight and a quarantine package booked but it's been the most horrendous task.
"We actually booked about three flights and had to cancel them because we couldn't get the quarantine package in place, and it's cost thousands of pounds."
In addition to the flights, she said the quarantine package would cost £3,500.
"We hope to retrieve at least some of that money back but at this point in time, we just want to get back."
The couple have booked a flight out of South Africa via Kenya, after which they will quarantine in a hotel near Gatwick Airport, in the hope of being home by about 18 or 19 December.
Ms Storr set up a Facebook group called Brits stranded in South Africa and within a day she had 35 members, supporting each other and offering advice.
Jeannine Boshoff, from Great Yarmouth, is also stuck in South Africa - the country of her birth.
The social worker, who has lived on the Norfolk coast for four years, was granted British citizenship in 2010.
She arrived in South Africa on 20 November and planned to fly home to the UK a week later.
"On the 26th, the news came that South Africa was back on the red list which meant I couldn't fly back and my airline cancelled their flights," she said.
"I've been crying, I didn't sleep," Ms Boshoff said.
She said she was worried she would have to spend Christmas in a hotel alone.
Ms Boshoff said she was currently on her third flight booking, having cancelled two, but has still not heard whether she will be refunded.
"I came here to sort out finances in South Africa, and all the savings I've sorted out here are now going on the quarantine hotel and flights, so I've got limited funds at the moment," she said.
She said she hoped to fly out on 11 December and come out of quarantine on 22 December, but does not yet know if that will happen.