Hinchingbrooke Hospital: Gift bag idea for bereaved rather than bin bags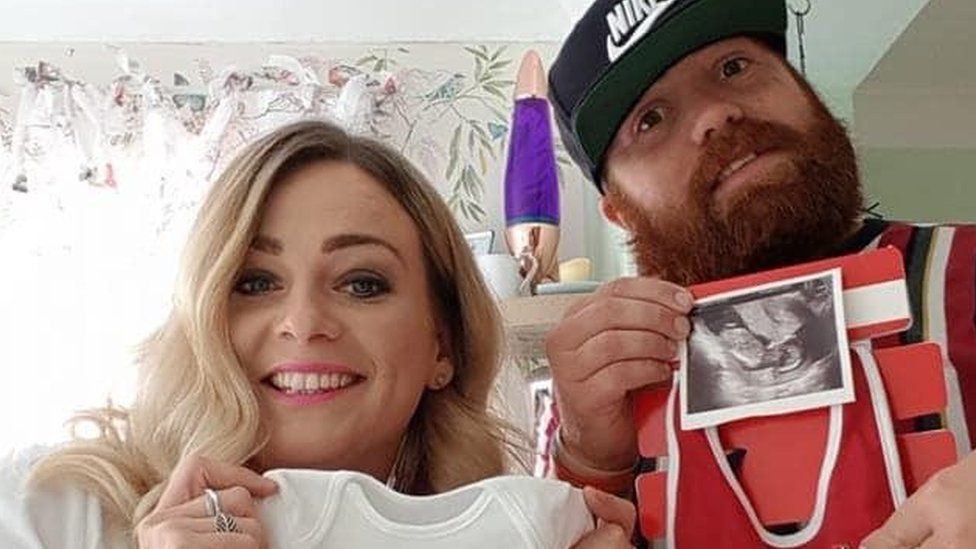 A charity in the name of a father-to-be who died has created gift bags for bereaved families to take their loved ones belongings' home from hospital.
Adam Hurst, 31, died from a rare type of hernia at Hinchingbrooke Hospital in Cambridgeshire in December 2018.
The Adam's Rose charity had the gift bag idea after his father then died in hospital in May 2021 and his personal items were in rubbish bags.
Mr Hurst's widow, Victoria, said they wanted to help people through grief.
Mr Hurst, a builder from Godmanchester, had a history of abdominal pain and was born with a rare undetected congenital diaphragmatic hernia.
The youth football coach died a few hours after his wife, who was pregnant with their first child, took him to A&E at the hospital in Huntingdon.
Mrs Hurst said: "Adam was such a caring, loving person; he just wanted to help anyone.
"I just thought the world has lost someone so amazing, but Adam's kind heart will keep striving through with this charity."
She said her husband did not have any belongings with him when he died, but added that when Mr Hurst's father died they "had to go and collect his belongings and they were in rubbish bags".
"It was just really hard to see, coming through the door, their belongings, that's the last piece of them," she said.
Mrs Hurst said of the gift bag idea: "We just want to give them a gift and just say keep going, this is a piece of your loved ones."
Chief nurse at North West Anglia NHS Foundation Trust, Jo Bennis, said Hinchingbrooke Hospital felt "very privileged" to be chosen as the place to roll out the idea.
"I think those lasting memories when you leave the hospital are what stays with you," she said.
"This will make it a little bit easier and much more personal for the family and feel more caring for them that we've looked after their loved ones and we've thought about them as individuals.
"For me that's what we should be about."
Related Internet Links
The BBC is not responsible for the content of external sites.