Peterborough: Club hopes for charity match to restore clubhouse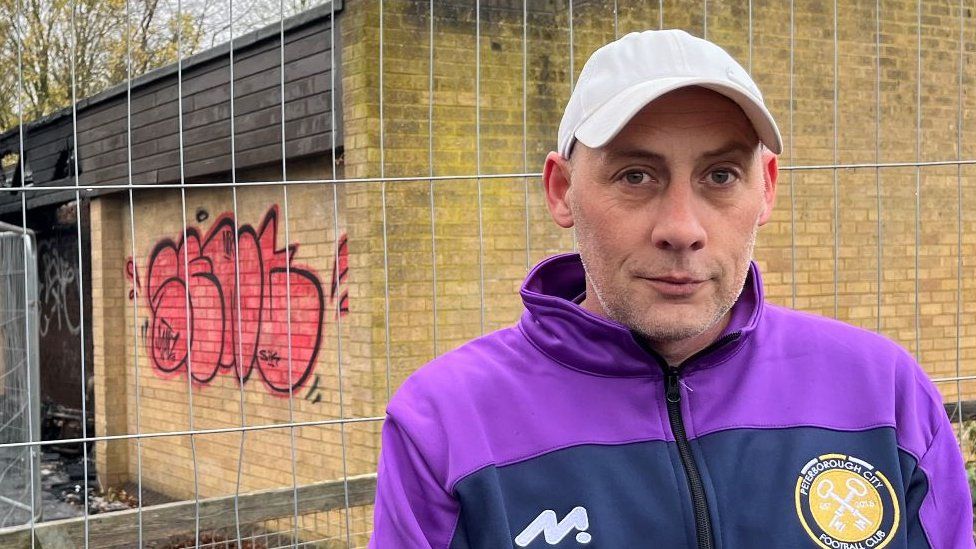 A grassroots football club's fire-damaged clubhouse could be restored by a charity match, its chairman said.
The Bretton Park Pavilion in Peterborough was set alight in the early hours of Monday, destroying sports kit and changing rooms.
Cambridgeshire Fire and Rescue Service said the cause of the fire was deliberate.
Stuart Cave, from Peterborough City FC, which uses the pavilion, said the damage was "terrible".
The fire service said was called at 04:17 GMT to the single-storey building at the Bretton Water Park, and crews found the fire had spread to the roof.
Mr Cave, the football club's chairman, said: "Nothing was saved in the back changing room, which is where we keep our equipment.
"All we've done is improve the area, we've put signage out, we've painted the changing rooms, we've made it attractive to other local clubs to come.
"That's what's hit us hard - the man hours and hard work we've put into getting changing rooms that have been here for 40 years up to an acceptable standard."
He said he been in touch with Peterborough's Conservative MP Paul Bristow about a charity football match to raise money, and the MP had told him he was "looking into it".
Mr Bristow tweeted he was "heartbroken to see this damage" to the clubhouse.
A crowdfunding campaign has also been started by local residents, the club said.
Related Internet Links
The BBC is not responsible for the content of external sites.