Anger over sex shop plan next to Truro school shop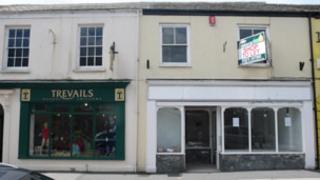 A sex shop application has sparked outrage from residents and retailers in a Cornish city.
The firm Mrs Palm Limited wants to open the store in Little Castle Street, Truro, but the premises next door sells children's school uniforms.
Some shopkeepers have vowed to fight the application.
But Mrs Palm said it would be a "lawful" business, properly licensed by Cornwall Council in according with its trading rules.
'Nice street'
Company spokesman Braxton Reynolds said Little Castle Street had been chosen because it was a "specialist" shopping area and as such was "appropriate".
"Concerns have been strongly expressed about what might be seen by passers-by in the window," company spokesman Braxton Reynolds said.
"But the standard rules apply to all such establishments is that nothing that will cause offence can be displayed in the window."
The manageress of the school outfitter Trevails said she was really shocked at the "distasteful" sex shop application.
"We don't want something like that next door," Vicky Trevail said.
"We've got young children probably from the age of three up to 16 or 17, so no, no, it's definitely no from the Trevail family and no from me.
"We're a cathedral city, we live in a nice street here and we're all friendly and neighbourly."
She added: "I mean live and let live - but put it somewhere else."
'Discreet' displays
Jackie Hill, who runs the Limelite Costume Shop on the other side of where the sex shop would be, said she intends to start a petition against the application.
"You don't need it shoved in your face," she said.
"You can get everything you want online if you really want it and it's the clients that are going to be using the shop that really worry me."
Parents have also expressed anger over the application.
Siobhan Ward said she was worried her two children would see what was on offer in the sex shop.
"I'm not over happy at having to go past a sex shop when I go to take my children in to be measured for their uniforms," she said.
"I don't think it's right to have a shop like that and I'm sad to see it happening in Truro."
But Mr Reynolds added if the application was successful, the shop would be "discreet" and window displays limited to clothing and other "non-offensive" items.
He said the company had no wish to cause upset or embarrassment and signs would be put up stating clearly that no one under 18 can use the shop.
Cornwall Council said it would not comment as the application had not yet been heard.