Family abused by vandals seek new safe home in Cornwall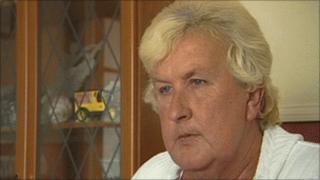 A mother of 12 from Cornwall is calling on the council to re-home her family because of a two-year campaign of abuse by vandals.
Attacks on Shirley Martin's house on the Berryfields estate in Bodmin include excrement and threatening graffiti being daubed on the walls.
Mrs Martin, 53, says the abuse has scared the family so much that her daughter tapes the letter-box shut.
Cornwall Council and the police are investigating the incidents.
'Dead meat'
Last year another resident on the estate, Mary Fox, died after a firework was pushed through her letter-box.
Three teenagers were convicted of her manslaughter in May.
During the trial Truro Crown Court heard Mrs Fox and her son had been subjected to bullying and harassment by local youths.
Mrs Martin, who has lived on the estate for 34 years, said that recent graffiti scrawled on her property included the words "dead dead dead" and the threat "Shirley you are dead meat".
Mrs Martin is waiting to see if her family can be re-homed on another estate and is being supported by her GP and local MP, as well as the police.
"Seeing what had happened to Mary Fox, we just don't feel safe," she said.
"My medical health has got worse."
Mrs Martin's 13-year-old daughter Kerry Sturbridge said: "I just get scared cos there's all this happening and then I'm just worried about what's happening next.
"What's going to be done to the house next?"
Devon and Cornwall Police said steps were being taken to help protect the family.
Pc Steve Applewhite said: "Berryfields, the very nature of the estate means that people do talk to one another.
"Sooner or later we will get a name and we will be able to investigate this further."
Cornwall Council said it could not comment on individual cases.