Archaeologists want north Cornwall research centre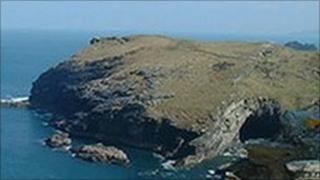 Archaeologists in north Cornwall want to build a research centre following the discovery of a 13th Century settlement.
Excavation work on land in Slaughterbridge, Camelford, has found references to a village in 1296.
Archaeologist Dr Niall Finneran, of the University of Winchester, said the discovery "put the site on the archaeological map".
North Cornwall Heritage (NCH) is applying for funding for a centre.
Joe Parsons, from NCH, who owns land which is being excavated, said: "We've uncovered areas of the farm with references to a village in 1296, but there's no mention of who lived here, so we're digging to find out more.
Visitor centre
"We've realised from this site that there's so much more going on in the area, it's got a fascinating past.
"We've [NCH] put together a business plan and we're trying to sort out some funding."
Currently the site is being excavated by volunteers, but NCH want to create a research centre for archaeologists and students to use as well as a visitor centre.
Dr Finneran, head archaeologist at Winchester University, said: "What we have here is part of the regional farming system, and a building showing someone very important lived here.
"It's beginning to shed light on life in the late 13th Century, so we're really beginning to put the site on the archaeological map."
Items including a coin and a pot dating back to the 13th Century have been found on the site as well as a lada and fireplace.