Resurfacing closes A30 section in Cornwall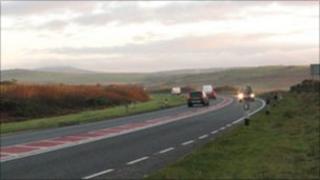 The road layout on the A30 in Cornwall is to change as a major road works programme enters its next phase.
Five miles of the A30 between Redruth and Camborne are being resurfaced.
The westbound entry road at the Avers intersection and westbound exit road at Tolvadden has closed for more than three weeks, the Highways Agency said.
Drivers wanting to travel west from Avers roundabout will have to take the Treswithian junction and go along a 3.5-mile (5km) diversion.
Speed limits in the affected areas were also being reduced to 50mph, the agency added.
The complete scheme is costing £6m and is due to take until October to complete.